Gross Says China Shares Likely to Fall Up to 6% at Friday's Open
by
El-Erian also says investors should brace for more turmoil

World stocks and oil fall amid concerns over China's economy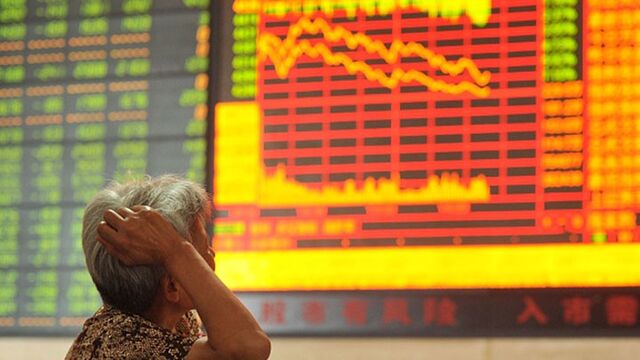 Bill Gross says China's stock markets are likely to drop 5 percent to 6 percent when they open Friday, after trading was stopped for the second day this week because falling shares tripped a circuit breaker.
Based on exchange-traded funds in the U.S., "China is expected to be down 5 or 6 percent," Gross, co-manager of the $1.3 billion Janus Global Unconstrained Bond Fund, said in an interview on Bloomberg Television with Tom Keene, echoing comments on China's volatility from Allianz SE's Mohamed El-Erian. "It depends on whether the Chinese are good to their word. China is an artificial market."
Chinese regulators suspended a rule that forced local stock exchanges to shut Thursday. The move added to worry that policy makers are struggling with how to contain the months-long turmoil in its financial markets as growth slows for the world's second-largest economy.
Global stocks headed for their worst start to a year in at least 28 years, with the Dow Jones Industrial Average dropping almost 400 points on Thursday, as turmoil emanating from China spread around the world and billionaire George Soros warned that a larger crisis may be brewing. Comments by Soros exacerbated market jitters after he told an economic forum in Sri Lanka that global markets are facing big trouble and investors need to be very cautious.
China's devaluation of its currency is a bigger concern than its stock market volatility, according to Scott Mather, co-manager of the $90 billion Pimco Total Return Fund, which Gross ran before he went to Janus Capital Group Inc. in 2014.
Currency 'Opacity'
"What the markets are worried about is not that there's equity market volatility," Mather said in a telephone interview from his office at Pacific Investment Management Co. in Newport Beach, California. "What they're worried about is the currency movements. There's this opacity. What are they trying to achieve and how are they going to do it?"
Chinese policy makers have sent mixed signals on their currency, the yuan. They have pledged to keep it stable, drawing down a record $108 billion from foreign reserves last month to prop it up. At the same time, the People's Bank of China set its reference rate at unexpectedly weak levels this week, raising speculation that it's more tolerant of depreciation to spur exports.
Mark Haefele, global chief investment officer for wealth management at UBS Group AG, reduced the Swiss bank's exposure to equities to neutral from overweight in its allocation models because of uncertainties in China and credit markets.
Manipulative Bankers
Central banks, especially in places such as China, have been manipulating economies, artificially driving up asset prices and setting up markets for a fall, according to Gross. Investors should probably seek havens, such as Treasuries, to ride out the current turmoil, and expect low returns in the long term with global economies headed for protracted slow growth, he said.
While it seems reasonable for Chinese regulators to do away with circuit breakers and allow markets to clear, the policy flip-flop also makes it look like they don't know what they're doing, according to Stuart Sclater-Booth, who helps oversee $45 billion at Stone Harbor Investment Partners.
"There are too many policy initiatives going on that appear to be by the seat of the pants," Sclater-Booth said in an e-mail. "It feels like the Dutch boy with the finger in the dike."
Other analysts also expect further turmoil when Chinese markets reopen as investors race to retrieve their money and regulators seek stability.
'Very Volatile'
"We should tighten our seat belt," El-Erian, who is chief economic adviser at Allianz and also a columnist for Bloomberg View, said on Bloomberg TV earlier in the day.
"I expect tomorrow is going to be a very volatile day in the Chinese markets, as the retail sector tries to exit and government entities try to buy," said El-Erian, a former colleague of Gross and Mather at Pimco.
Pressure to get out of Chinese markets probably is coming from insiders who were prohibited from selling under a ban imposed in July by the China Securities Regulatory Commission, according to Scott Minerd, global chief investment officer at Guggenheim Partners.
"Chinese regulators are likely to extend the ban beyond this week in response to the current selloff," Minerd, who oversees about $240 billion, said in an e-mail response to questions. "But as expiring restrictions enable market participants to finally escape unwanted positions, a selloff is inevitable. Until China's market is free from political interference, these kinds of swings are to be expected."
Before it's here, it's on the Bloomberg Terminal.
LEARN MORE