For Valeant's Ailing Chief Executive, It Wouldn't Pay to Leave
by and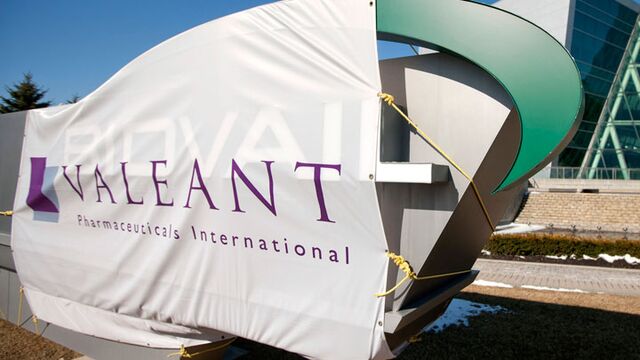 If Michael Pearson leaves Valeant Pharmaceuticals International Inc. now, it would be without a parachute.
Two potential payouts would disappear should the drug company's ailing chief executive resign for medical reasons. At the moment, he appears unlikely to return to work quickly, and on Wednesday the company appointed an interim leader.
Pearson's employment contract states that if he steps down for "good reason," such as a demotion, he would be entitled to a $9 million cash severance. An exit for medical causes wouldn't trigger the payout, according to the contract.
With a medical exit, he would also forgo a much bigger potential payout down the road. However, if he comes back and stays on long enough for the stock to make a strong recovery, he would stand to earn hundreds of millions of dollars.
The company crafted the contract to reward Pearson for delivering strong share performance over a half decade, granting him restricted stock units in January 2015. The exact number he stands to receive depends on how far Valeant's share price rises above the level when the awards were granted, $140.63.

If shares are 50 percent above that price in 2019 and 2020, and Pearson remains employed, he could receive a maximum of 2.25 million shares -- worth at least $527 million when they vest. 
Pearson could claim a portion of the stock award immediately if he retires due to illness, according to his employment agreement. But at current price -- $102.40 at the close Wednesday -- Valeant's shares are well below the grant level and he would get none.
A Valeant spokeswoman didn't immediately respond to a request for comment.
Pearson, a former McKinsey & Co. partner, turned Valeant into an industry colossus, overseeing more than 50 acquisitions during his seven years at the helm. He had a net worth of as much as $2.5 billion, largely in company stock, when Valeant shares closed at a record $262.52 in August. Bloomberg's net worth calculations don't include the restricted stock.
The company's shares have fallen sharply since then, as the Valeant has come under U.S. investigation over its drug pricing and battled short-sellers who have questioned its business practices. Pearson's fortune has since fallen below $1 billion.
The company said he became ill late last month with severe pneumonia and remains hospitalized. 
On Wednesday, Howard Schiller, Valeant's former chief financial officer and a current board member, took over as interim CEO following a brief period when the firm was run by a three-person committee.
Before it's here, it's on the Bloomberg Terminal.
LEARN MORE