Fed Has Time to Weigh Fallout of China's Turmoil
by and
Dollar, commodity impact from yuan cut could drag on inflation

Fed has until March meeting to assess repercussions for U.S.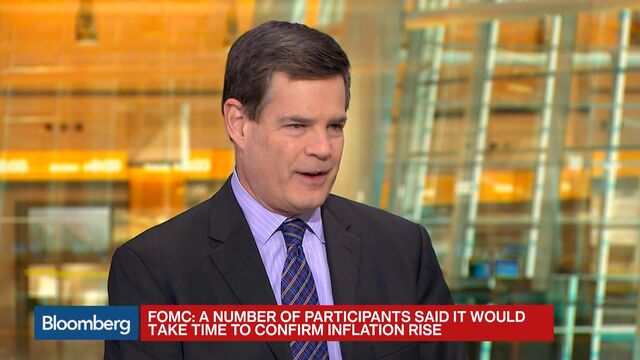 Time is on the Federal Reserve's side -- unlike the last time Chinese markets were in turmoil.
The People's Bank of China lowered the yuan's reference rate against the dollar by 0.5 percent on Thursday, the most since August moves that sent shock waves through global markets and helped to delay a then-anticipated September rate increase by the Fed. This week's action roiled equities and raised fresh questions about China's economic strength.
The central bank has more than two months to assess the fallout from China's latest financial upheaval as investors expect a rate increase in March at earliest. Between now and then, market volatility could calm and U.S. strength could outweigh uncertainty from Asia. If the currency change is determined to be a signal of weakening Chinese growth, however, it could cause the dollar to rise and commodity prices to fall, exacerbating trends that have damped U.S. inflation and making it harder for the central bank to justify its median outlook for four interest-rate increases this year.
"The Fed has to look through the markets and assess how this changes the outlook for China, and with what impact on the U.S.," said Mickey Levy, chief economist for the U.S. and Asia at German bank Berenberg, in New York. "Their tendency is to become very cautious when there is global financial turmoil, and that cautiousness will accentuate their already cautious approach to interest rates."

Richmond Fed President Jeffrey Lacker said the Fed will be watching developments in China "closely." Speaking in Raleigh, North Carolina, on Thursday, he said market volatility matters only inasmuch as it affects economic fundamentals.
Minutes Concern
His comments come a day after minutes from the policy-setting Federal Open Market Committee December meeting showed officials are concerned China "could find it difficult to navigate the cyclical and structural changes under way in its economy." Central bankers at that meeting increased the benchmark interest rate for the first time since 2006.
The World Bank this week cut its forecast for China's growth in 2016 to 6.7 percent from 7 percent in June. Still, the development lender said a sharper slowdown was a "low-probability scenario," noting the country has ample room to stimulate demand through public spending.
If the yuan move signals a worse-than-expected economic slowdown in China, that may have little direct impact on the U.S. because China accounts for about 8 percent of U.S. exports. However, it could cause issues for the world's largest economy by affecting emerging markets, commodity prices and the dollar's strength.
Negative Spillover
"If all China's neighbors and other large parts of the world are negatively affected to a considerable extent by China, then that would be an impact" on the U.S., Fed Vice Chairman Stanley Fischer said Wednesday during a CNBC interview before the yuan move. "The rest of the world matters to us."
What's more, China's move upset markets in Asia and sent the Standard & Poor's 500 Index down 2.4 percent, in the worst start to a year in data going back to 1928. That could give the Fed pause if the turmoil proves persistent, particularly if market volatility feeds through to affect financial conditions and consumer behavior.
"When we saw the equity market weaken in August, the following month we saw the saving rate rise," said Michael Feroli, chief U.S. economist at JPMorgan Securities in New York. "That would be another factor that would be leaning against a rate hike."
Still, "you'd have to see a real unraveling in U.S. markets" to take a March interest-rate increase off the table, said Kevin Cummins, an economist at RBS Securities Inc. in Stamford, Connecticut.
Domestic Data
By damping the international outlook, concerns over China will intensify Fed watchers' focus on incoming domestic data, including the U.S. jobs report that is scheduled for release Friday at 8:30 a.m. in Washington.
The U.S. employment data constitute a "major piece of news" that will be "important to take into account, in addition to the global developments," said Laura Rosner, U.S. economist for BNP Paribas in New York.
The median projection from Fed policy makers in December called for four quarter-point interest-rate increases this year, provided the U.S. economy continues to expand amid sustained job market progress and inflation picks up gradually toward the Fed's 2 percent goal. Officials based their inflation forecast on expectations that "transitory" dollar gains and commodity price declines will fade, according to the meeting minutes.
Inflation Impact
JPMorgan's Feroli said that if instead the dollar continues to rise and commodities continue to drop because of issues in China, that could start to drag down inflation expectations, which would be a problem for the Fed. Inflation might slow by 0.1 to 0.2 percentage point on the impact from China, estimated Harm Bandholz, chief U.S. economist at UniCredit Bank in New York.
Turmoil coming from China "is not information that would lead the Federal Reserve to move sooner rather than later, and it may be information that would lead the Federal Reserve to move later rather than sooner," said Edwin Truman, senior fellow at the Peterson Institute for International Economics in Washington and former director of the Fed's international-finance division. "So far, it's marginal." 
For fiscal policy makers in Washington, the concern is more about the currency rate itself. The Obama administration has been pressing China to take steps to make its exchange rate more market-based and flexible enough to go up or down.
"We're obviously going to continue to monitor the situation, and continue to stay in close touch with Chinese economic officials, particularly in the face of the kind of volatility that's been on display over the last few days," White House spokesman Josh Earnest said Thursday at a briefing in Washington.
He referred a question about market volatility to the Treasury Department, which he said is "watching this most closely." A Treasury spokeswoman declined to comment beyond Earnest's remarks.
Before it's here, it's on the Bloomberg Terminal.
LEARN MORE