Euro-Area Economic Confidence Rises to Highest Since 2011
by
Sentiment rises to 106.8 in December from 106.1 in November

Improvement reflects better sentiment in industry, services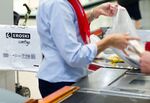 Euro-area economic confidence unexpectedly rose in December in a sign that new stimulus from the European Central Bank may be providing impetus to the region's fragile recovery.
An index of executive and consumer confidence jumped to 106.8 from 106.1 in November, the European Commission in Brussels said on Thursday. That's the highest since April 2011 and compares to a median estimate for a drop to 106 in a Bloomberg survey of economists. Unemployment fell to 10.5 percent in November, according to a separate report from Eurostat.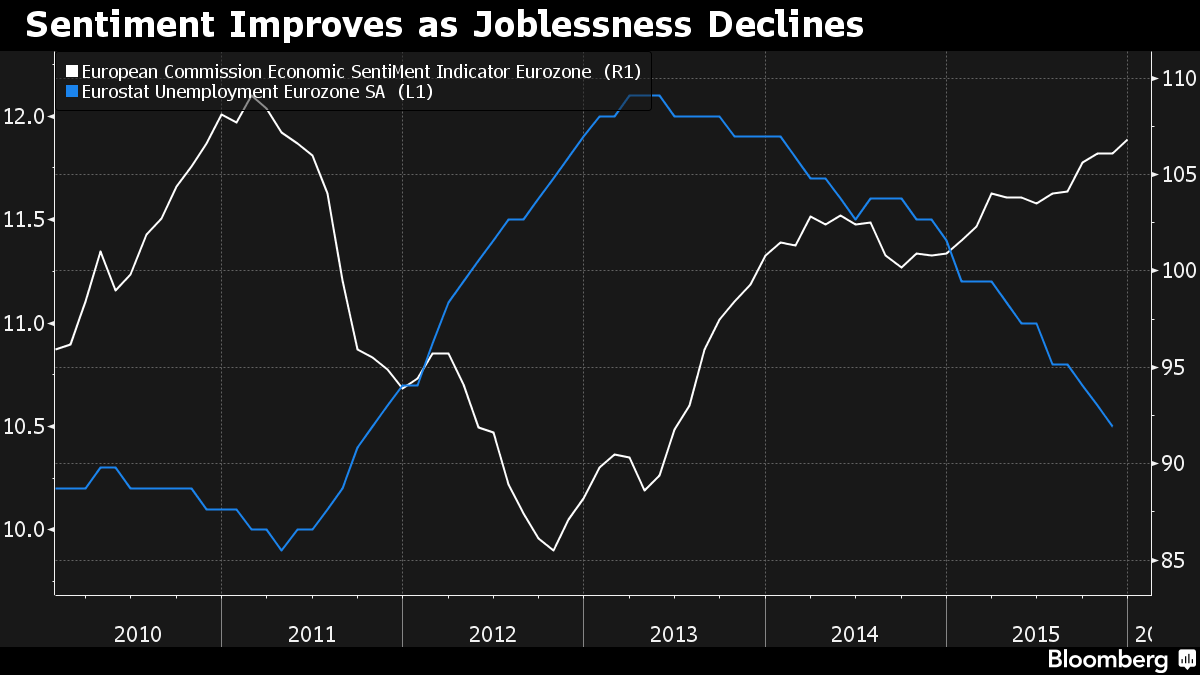 The pick-up in confidence gives the Frankfurt-based central bank some respite after investors expressed disappointment over its latest stimulus effort to nurture growth and return inflation toward 2 percent speedily. While surveys of purchasing managers point to a slowly strengthening recovery, weakening global trade is threatening exports.
"The recovery is continuing, but underlying inflationary pressures remain very subdued, coupled with low oil prices and a stronger euro," said Aline Schuiling, senior economist at ABN Amro Bank NV in Amsterdam. "The problem for the ECB is that inflation expectations become dislodged and markets begin to lose patience. Hence we expect the ECB to announce further stimulus in March to tame that risk."
The euro was little changed after the report and traded at $1.0847 at 11:49 a.m. Frankfurt time.
A gauge for sentiment in industry rose to minus 2 in November from minus 3.2, and a measure for confidence in services increased to 13.1 from 12.8, the Commission said. Sentiment among consumers and builders also improved.
Unemployment Drops
Joblessness in the region fell to the lowest in four years in November, ranging from 4.5 percent in Germany to 21.4 percent in Spain, the European Union's statistics office said on Thursday. It didn't provide data for Greece. Youth unemployment in the euro area stood at 22.5 percent.
Retail sales fell 0.3 percent in November, marking the third consecutive decline, according to a separate report. Economists surveyed by Bloomberg predicted a 0.2 percent increase. Sales were up 1.4 percent on the year.
While ECB policy makers including President Mario Draghi have pointed to downside risks emanating from slowing growth in emerging markets, they also highlighted the boost to spending and investment from lower oil prices. Brent crude ended 2015 with the lowest annual average price in 11 years as the largest members of the Organization of Petroleum Exporting Countries keep pumping near record levels.
Euro-area inflation remained at 0.2 percent in December. The weaker-than-anticipated print puts at risk ECB forecasts that see price growth accelerating to 1 percent this year and 1.6 percent in 2017. It also challenges calls for more stimulus, after officials extended quantitative easing by six months in December and took one of the bank's key interest rates further below zero. The ECB aims to keep inflation below but close to 2 percent in the medium term.
Before it's here, it's on the Bloomberg Terminal.
LEARN MORE