China Halts Stock Trading After 7% Rout Triggers Circuit Breaker
Bloomberg News
A-Share premium over Hong Kong to widen further, Invesco says

H-Share company earnings forecast to drop over next 12 months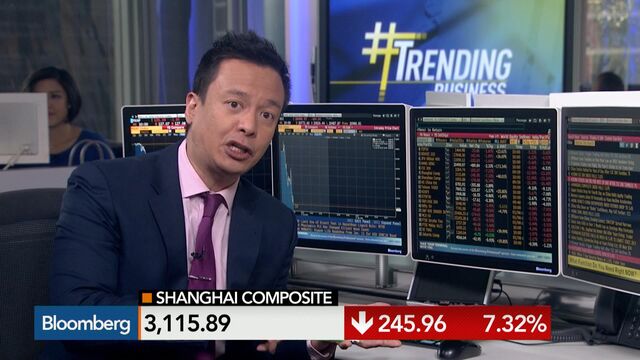 Chinese stocks in Hong Kong fell to the lowest level in four years as mainland shares plunged, forcing an early halt to trading for the second day this week after the central bank cut its yuan reference rate by the most since August.
Hong Kong's Hang Seng China Enterprises Index tumbled 4.2 percent to the lowest level since Oct. 6, 2011. Trading of shares and index futures in the mainland was halted by automatic circuit breakers from about 9:59 a.m. after the CSI 300 Index slid more than 7 percent. The People's Bank of China cut its reference rate on Thursday for an eighth straight day, fueling concern that tepid economic growth is prompting authorities to guide the currency lower.
"The yuan's depreciation has exceeded investors' expectations," said Wang Zheng, Shanghai-based chief investment officer at Jingxi Investment Management Co. "Investors are getting spooked by the declines, which will spur capital outflows."
The yuan weakened 0.6 percent to 6.5938 per dollar at 4:20 p.m. in Shanghai. The currency rallied from early declines in offshore trading, strengthening 0.4 percent in Hong Kong amid speculation the central bank propped up the exchange rate after setting a weaker fixing that sent the currency tumbling.
Huatai Securities Co. tumbled 10 percent and Citic Securities Co. declined 7.1 percent as financial stocks slumped. China Petroleum & Chemical Co. led losses in energy companies as oil futures slid to the lowest level in 12 years.
Widening Discount
Mainland-listed companies are now 39 percent more expensive than their Hong Kong-traded peers.
"The gap will probably widen, with a higher discount for H shares, because you have to take into account the currency depreciation," said Paul Chan, Hong Kong-based chief investment officer for Asia excluding Japan at Invesco Ltd., which oversees $791 billion globally. "Earnings-per-share in Hong Kong dollar terms are lower, and I pay Hong Kong dollars for those shares."
Analysts forecast earnings of companies in the H-share index, dominated by the nation's biggest finance and energy companies, will fall 0.8 percent in the next 12 months.
The China Securities Regulatory Commission issued a rule during Thursday's market halt, capping the size of stakes that major investors are allowed to sell at 1 percent of a company's shares. The restriction, which will stay in place for three months, replaces an existing six-month ban on any secondary-market stock sales that's due to expire Friday, the regulator said in a statement.
The CSRC also called an unscheduled meeting to assess circuit breakers and market conditions without coming to a decision on policy action, according to a person with direct knowledge of the matter. The regulator didn't immediately respond to requests for comment.