China Turmoil Has Traders Cutting Odds of Fed Rate Move by April
By
Chances of move by June also tumble as China concerns mount

Treasuries have already returned 0.5% to investors in 2016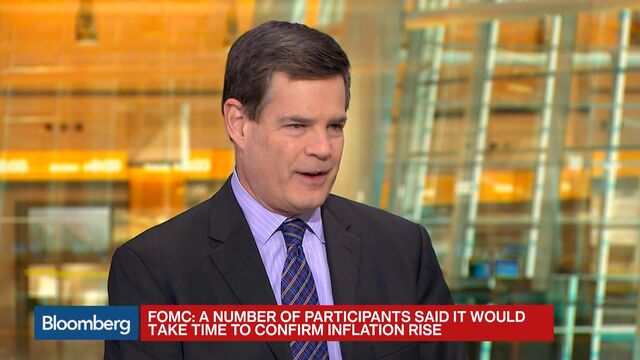 The resurgence of Chinese stock-market turmoil in 2016 has investors increasingly betting that Federal Reserve officials will lose some of their resolve and delay future interest-rate boosts.
Traders see a 43 percent chance that policy makers in Washington will lift the benchmark rate by their April meeting, down from 52 percent as recently as Tuesday. Investors back from holidays this week witnessed stock plunges in China that led authorities to close trading early twice. Turmoil caused by worries over the world's second-largest economy last year helped convince the Fed to delay a rate increase from September to December.

"What's happened at the beginning at the year has seen a further accentuation of already clear concern over global disinflation pressures, particularly emanating from emerging markets and specifically within the fears over the speed of the slowdown in China," said Richard McGuire, London-based head of rates strategy at Rabobank International. "We think the Fed will only be able to raise rates twice this year at best."
The shift in outlook has rewarded Treasury investors. Investors in U.S. government debt have earned 0.5 percent this month through Wednesday, as market gauges of expected inflation decline with collapsing commodity prices. Oil prices, a benchmark for inflation and economic growth, and therefore interest rates, tumbled to an 12-year low in New York Thursday.
Futures markets signal the odds for a Fed rate increase by the June meeting at 61 percent, down from 75 percent on Dec. 31. Derivatives are pricing in fewer than two quarter-point increases over the next year, compared with the four moves in 2016 that Fed officials laid out in their latest forecasts.
Equities Rout
Back in August, a rout in Chinese shares helped drive down stocks around the world and spurred the Fed at its September meeting to cite "global economic and financial developments" as it kept interest rates near zero, before eventually moving higher in December.
Fed Vice Chairman Stanley Fischer on Wednesday said China's slowing economy and other events that are clouding the economic outlook made it difficult to predict the path of policy even as he reiterated that officials' predictions for 2016 were "in the ballpark."