China Flip-Flops on Stock Crash Rule and Adds to Chaos
Bloomberg News
Suspension comes after meeting to discuss market conditions

Mainland stock trading halted after CSI 300 tumbles 7 percent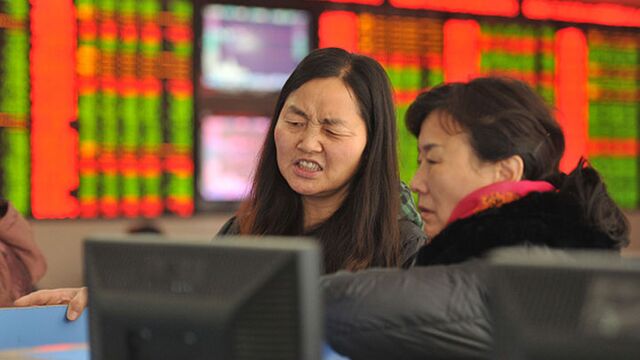 After watching a stock-market collapse wipe out $5 trillion of wealth in less than three months last year, Chinese authorities hatched a plan to stem the pain: circuit breakers that would be triggered by daily declines of 5 percent.
The new system went into effect Jan. 4. It lasted all of four days. After two harrowing sessions -- on Monday and Thursday -- that tripped the breaker repeatedly and convulsed global markets, officials suspended the rule, saying it was only exacerbating declines. While that acknowledgment addresses critics' concerns, the flip-flop at the same time only adds to the sentiment among global investors that authorities are improvising -- and improvising poorly -- as they try to stabilize markets and shore up the economy.
"They are changing the rules all the time now," said Maarten-Jan Bakkum, a senior emerging-markets strategist at NN Investment Partners in The Hague with about $206 billion under management. "The risks seem to have increased."

The China Securities Regulatory Commission announced the suspension on its official microblog account on Thursday night. The benchmark CSI 300 Index had plunged 7.2 percent earlier in the day, triggering an automatic shutdown within 30 minutes of the open, as declines in the yuan eroded investor confidence in the world's second-largest economy.
Global Selloff
The circuit breakers, which halt exchanges for 15 minutes after a 5 percent drop in the benchmark and for the rest of the day after a 7 percent retreat, have been criticized by analysts for deepening losses as investors scramble to exit positions before they're blocked from selling. Regulators echoed those concerns upon suspending the mechanism, saying that it has a certain "magnet effect." When the stock market "approaches the threshold, some investors trade ahead of it, accelerating the decline towards the trigger and deepening the selloff," they said in a statement. "On balance, the current negative impact outweighs the positive effect."
The rout -- the CSI benchmark has declined 12 percent this week and the yuan tumbled to five-year low -- has radiated across global equity markets. The Dow Jones Industrial Average average headed for a third drop of more than 1 percent this week, the yen reached a four-month high and gold surged on haven demand.
While China's economy is showing signs of stability after decelerating to its slowest annual pace since 1990, investors are concerned how deftly, or ineptly, the authorities will manage its equities and the currency.
The stock market has gone from boom to bust and back again more times in the past 12 months than most major peers do over the course of a decade.
Weakening Currency
On the currency front, policy makers have pledged to keep the yuan stable, drawing down a record $108 billion from foreign reserves last month to prop it up. At the same time, the People's Bank of China set its reference rate at unexpectedly weak levels this week, raising speculation that it's more tolerant of depreciation to spur exports.
"The more alarming thing is that they weakened the currency after saying they wouldn't," said Patrick Chovanec, New York-based chief strategist at Silvercrest Asset Management Group. "So that raises all these issues of mixed signals, confusion. It is very unclear what the policy is, whether they know what the policy is, whether they know how to implement the policy."
Ineffective Measures
Officials proposed circuit breakers in the wake of a market crash in June and saddled many of the nation's 99 million individual investors with losses. The mechanism adds to trading restrictions that include a 10 percent limit on daily swings for individual stocks and a so-called T+1 rule preventing investors from buying and selling the same shares in a single day.
Critics say circuit breakers exacerbated the stock rout because investors expedite the selling for fears of being locked out. The threshold for trading halts is set so low that they would have kicked in 20 times last summer alone. In the U.S., trading is halted temporarily after declines of 7 percent and 13 percent in the Standard & Poor's 500 Index, and only suspended for the rest of the day if losses reach 20 percent.
"Knowing that the market is going to be shut down and people are not able to trade that adds a lot of anxiety to traders," said Michael Mullaney, who helps manage $12 billion as chief investment officer at Fiduciary Trust Co. in Boston. "They've been ineffective."
Market Forces
Chinese regulators moved to control the damage earlier Thursday, imposing a new limit on the amount of stock that major corporate shareholders can sell. That followed intervention by government funds to prop up shares on Tuesday, according to people familiar with the matter.
China's central bank is considering new measures to prevent high volatility in the exchange rate and will continue to intervene in the currency market, according to people familiar with the matter. Measures being considered aim to restrict arbitrage between onshore and offshore rates, the people said. The monetary authority didn't reply to a fax seeking comment.
Authorities are being forced to scale back efforts to let markets have more sway after an end to three months of relative calm on the nation's equity exchanges. Policy makers went to extreme lengths to support shares in the midst of the rout last summer, including ordering stock purchases by state funds, suspending initial public offerings and allowing trading halts that froze hundreds of mainland-listed shares.
Remaining Curbs
Investors still face plenty of restrictions on how they trade. A 10 percent daily limit on single stock moves and a rule preventing investors from buying and selling the same shares in a day remain in force. Volume in what was once the world's most active index futures market is minimal after authorities curtailed trading during the summer rout, making it more difficult to implement hedging strategies. The activity of overseas investors is limited by quotas, given either to asset managers themselves, or levied on foreigners as a group through the Hong Kong-Shanghai bourse link.
Regulators abandoned the circuit breaker because "it wasn't working very well or wasn't doing the job it was supposed to," Geoffrey Dennis, head of global emerging-market strategy at UBS Securities, said by phone from Boston. "I think its more of a move to try to improve, a technical adjustment that may end up with a better designed instrument down the road."
---

---
— With assistance by Keith Zhai, and Ye Xie
Before it's here, it's on the Bloomberg Terminal.
LEARN MORE