Cameron Confident of EU Deal Despite Hungary Welfare Pushback
by and
Hungarians shouldn't be treated as `parasites,' Orban says

Proposal to restrict benefits for 4 years `still on table'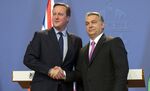 Prime Minister David Cameron said he's confident he can reach a deal in his renegotiation of Britain's place in the European Union even as his Hungarian counterpart warned him not to treat its workers as "parasites" in his plans to restrict welfare.
Cameron said Thursday he still wants to push through his proposal to curb benefits for EU citizens until they have worked in the U.K. for four years. Speaking after talks in Budapest with Hungarian Prime Minister Viktor Orban, though, he said he's open to "creative thinking" to deter workers from moving to Britain for its state handouts.
"My proposal remains on the table, but I'm happy to look at alternatives if they provide real solutions," Cameron said in a televised news conference. "With goodwill and creative thinking we can find solutions, and that's what we're committed to between now and Feb. 18," when European leaders next hold a summit meeting to discuss Britain's demands.
Cameron has faced opposition, particularly from Eastern Europe, over his proposal to block welfare payments to EU citizens that are available to Britons. Orban said the Visegrad group of nations, made up of Hungary, Poland, the Czech Republic and Slovakia, can't accept discrimination against "hard workers" from elsewhere in Europe.
"We do not want to go to the U.K. and take away something from them, we don't want to be parasites, we want to work there," Orban said, adding that 55,000 Hungarians work in Britain. "Hungarians should get respect and should not suffer discrimination. Discrimination is something we should not accept."
Joint Position
Cameron will need the support of all the other 27 members of the bloc if he is to achieve the reforms he has promised before a referendum to be held by the end of 2017, and that may come as early as June this year. Orban said the Visegrad group will adopt a joint position in negotiations and that he sees a chance for an agreement.
Cameron was asked if he's considering restricting welfare payments to British workers as well for four years to remove the charge of discrimination; he declined to answer the question.
The British prime minister traveled to Budapest from southern Germany, where he met Chancellor Angela Merkel and spoke to her Bavarian sister party, the Christian Social Union.
In an interview with German ARD television that aired Thursday evening, Cameron repeated his expectation that he'll achieve a deal, including on welfare, and said Europe needs to be flexible to deal with problems as they arise.
"All the way through I've been very reasonable and calm. I've been all the way round to different European capitals and met with the presidents and prime ministers," he said. "The European Council meeting before Christmas was very good. The European Council agreed, let's find solutions –- not compromises, but solutions -– in all of the four areas that I've put forward, and I'm confident that we will."
Before it's here, it's on the Bloomberg Terminal.
LEARN MORE