Baseball's China Push Grows With MLB-Le Sports Streaming Deal
by and
Initiative could spur first MLB regular-season games in China

Le Sports says baseball appeals to the emerging middle class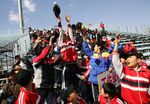 Major League Baseball signed its first national media partnership in China, a three-year deal that gives billionaire Jack Ma-backed Le Sports exclusive rights to live-stream games in the world's most populous country.
The deal fuses two of baseball's top priorities under first-year commissioner Rob Manfred -- cultivating new markets and delivering games digitally. It may also pave the way for China to host regular-season MLB games for the first time. "This will be the first generation of what baseball in Mandarin looks like and feels like," said Chris Park, head of baseball's international business.
The partnership gives LeTV Sports Culture Develop (Beijing) Co. exclusive rights in mainland China, Hong Kong and Macau to broadcast about 125 games per year, including the entire World Series. Le Sports, which has 14 million unique visitors per day, or about 3 percent of China's online video users, will also hold the rights to rebroadcast those games through video on demand.
As of now, baseball's Chinese fan base is small. The General Administration of Sport of China last month proposed a 10-year planto develop baseball into a 50 billion yuan ($7.67 billion) industry with more than 20 million viewers in the country by 2025. It's a modest goal for a country of 1.4 billion, where an estimated 300 million people have already embraced basketball.
NBA Success
But then, the NBA had been actively courting its Chinese fans for 10 years before Yao Ming was the top pick in the 2002 NBA draft and the game's popularity exploded. Baseball, on the other hand, was considered a symbol of Western indulgence and banned until Mao Zedong's death in 1976. The MLB opened an office in Beijing in 2007 and has been running development centers in China since 2009. The Baltimore Orioles in July made 19-year-old prospect Xu Guiyuan the first MLB player to come through that training system.
"Growing the game isn't as simple as turning a fire hose on and making games available," said Park, MLB's Senior Vice President of Growth, Strategy & International. "It's about promoting our game and packaging our players and teams in a favorable light, but also about presenting them in a way that is the most culturally relevant."
Fan Festivals
Le Sports is familiar with MLB's China-specific brand and has worked with baseball on a number of offline initiatives, including managing fan festival events and university leagues. As part of the new partnership, Le Sports will continue to co-produce MLB Perfect Pitch, a baseball reality show, and work with baseball on events and marketing.
Le Sports also has a novel way to sell baseball paraphernalia. Vice President of Strategy Yu Hang said that during games, a column on the right of the screen could provide options for fans to purchase hats of the teams on the field, or the jersey of the pitcher on the mound.
"This may be the first time in China that we integrate e-commerce elements while live-streaming sports," Yu said in a telephone interview. Both Park and Yu declined to provide terms of the partnership.
Billionaire Backers
Funded by the son of China's richest man, real estate billionaire Wang Jianlin, Le Sports is a subsidiary of Le Holdings (Beijing) Co. Minority owners also include Yunfeng Capital, a venture capital firm backed by Alibaba Group Holding Ltd.'s billionaire co-founder Ma. The company recently raised $122 million in a Series A round that brought its valuation to $430 million. A second round of financing is under way with a goal of reaching a $3 billion valuation.
There is high demand for streaming content in China, similar to the U.S. broadcast market, where live sports of almost any nature are a hot commodity. In China Le Sports competes primarily with Alibaba and Tencent Holdings Ltd., offering its content for free over the Internet and across devices like smartphones and smart TVs. This deal will run alongside MLB's regional television contracts in China.
In addition to MLB, recent Le Sports rights acquisitions include Wimbledon, English Premier League soccer, and Pac-12 athletics. Those deals are part of a broader focus on China's emerging middle class, a group of young parents that are well educated, city-based and beginning to incorporate sports into their lifestyle.
"That is the most important target audience for Le Sports," Yu said. "They treat themselves well, some have lived abroad in the U.S., and they have purchasing power. They have the capability to spend on things like Major League Baseball."
Before it's here, it's on the Bloomberg Terminal.
LEARN MORE