Gadgets
Bang & Olufsen's BeoLab 90 Speakers Cost as Much as a Tesla
The most advanced (and expensive) speakers B&O has ever made.
by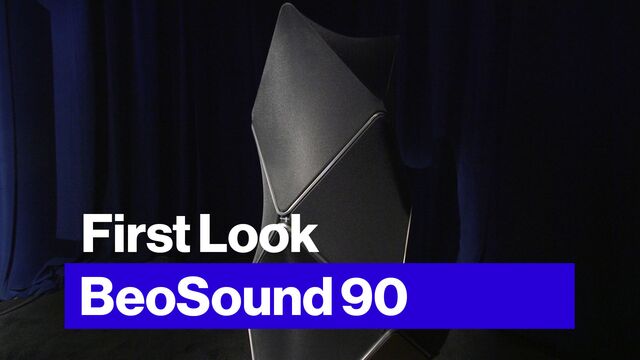 For its 90th birthday, Bang & Olufsen went on a bit of a design bender. The result is the BeoLab 90, a totally insane speaker that stands more than 4 feet tall, weighs more than 300 pounds, and costs more than a BMW 3-series. And, oh yeah, it sounds pretty great, too.
When you first look at the BeoLab 90, it's easy to feel as if you've entered some kind of Hunter S. Thompson-esque hallucination (fitting, as I got this first look at the cabinet in Las Vegas). You're not on a strange trip, though, I promise.

The unusual geometry conceals 18 individual driver units, each with its own amplifier. This means sound comes out at of the BeoLab 90 at a full 360 degrees with a total power of 8,200 watts. You don't need to know anything about audio equipment to know that's a lot of sound. Holding all this together is a 145-pound cast aluminum skeleton with some wood accents along the base.
The speakers have been in development for more than two and a half years, and for good reason. The goal wasn't to produce speakers that sound great when the listener is squarely between them, but instead to create a unit that could deliver top quality sound no matter the listening conditions. Using an accompanying app, users can adjust the sound profiles and the balance of the various drivers, so you can fine tune the BeoLab 90 to do just what you need, whether that's watching a movie alone or powering a dance party. During my brief test, I only found reasons to smile and chuckle. A jazz recording seemed full of subtle foot taps, and I could hear the texture of sticks on drums. 

If the BeoLab 90 is the most exceptional speaker Bang & Olufsen's ever made, it's also the most expensive. Each unit comes with a $38,995 price tag—and to take advantage of all of the best features you'll need two, so you're looking at $79,990 for a pair. Forget the 3-series; this is Audi A8 territory we're talking about. If you need something a little more reasonable, the new BeoSound 35 is just as easy to get excited about.
Bang & Olufsen's actual birthday was back in November, and preorders have been going on since. The hardware is all ready to go though, and the first pairs will start being delivered to customers by the end of January. A significant software update will finish things off in July.
Before it's here, it's on the Bloomberg Terminal.
LEARN MORE