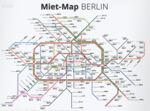 Thanks to a new map, you can now work out exactly how much it costs to rent a Berlin apartment, subway station by subway station.
Put together by property portal Immobilienscout24.de, the map details the monthly rent for an average one-bedroom apartment for each U-Bahn and S-Bahn stop in the German capital. The map, available in a zoom-friendly version here, is an interesting portal into just how much the city's wealth map has shifted in recent decades. But this being Berlin, the property tool is combined with something that does a whole lot more than that. It also allows you to work out if your landlord is illegally hiking your rent.

That's because charging too much rent in Berlin is now an offense. On June 1, 2015, the city introduced a new law called the "rental price brake," which fixes an average rent per square meter for a neighborhood and makes it illegal for anyone to charge over 10 percent more than that rate. Beneath the new rental map is a link to a form where you can type in your address and monthly rent, as well as the size and condition of your apartment. This way you can find out if your rent is too damn high. If it is, you can then report your landlord to the authorities.
The fact that Berlin rents are now officially regulated in this way gives the map a special authority. Interestingly, it shows that in the 25 years since German reunification, Berlin's wealth has gone on a long march eastwards. Historically, the richest parts of the city were in Berlin's far west, in villa districts abutting forests and a beautiful string of lakes. Nowadays, these neighborhoods are increasingly looking like a pretty good deal. You can now get a cheaper apartment (at €686, or $738 a month) next to the twisting woodland lake at Krumme Lanke than you can in some parts of gritty, centrally located Kreuzberg, once the poorest part of West Berlin.
It's right in the center of East Berlin, meanwhile, that rents have truly shot up. Apartments among the new fancy boutiques and hotels near Französische Strasse coming in at €980 ($1,054) a month. This area's rocket ride to the top has been pretty dramatic considering that there were still people of my acquaintance squatting here in the 1990s. Despite this shift, East Berlin still continues to offer the best deals. The €329 ($354) you'll need to live in East Berlin's Mahlsdorf—Berlin's lowest rent—sounds like a steal given that much of the neighborhood is actually quite pretty.
The regulated rents the map shows are of course reflections of anxiety—fears that, in a city where most people still rent, residents risk being driven out by gentrification. That concern may well be justified, but there's a detail of the map that's nonetheless liable to make the average Londoner or Parisian weep. The typical apartment it uses as a benchmark is a one bedroom ("two room" in German) of 70 square meters, or 754 square feet.* In Berlin, that may be an accepted norm. In the U.K., where there are probably duchesses with ancestral estates measuring less generously, that's the kind of space most people would love to call home.
*Correction: An earlier version of this post incorrectly converted 70 square meters into 230 square feet; it's actually 754 square feet.