Yuan Slump Adds to Case Against Buying China Stocks in Hong Kong
by
Invesco sees H-share discount to Shanghai widening on currency

Morgan Stanley shaves 2% off forecast for every 0.1 yuan fall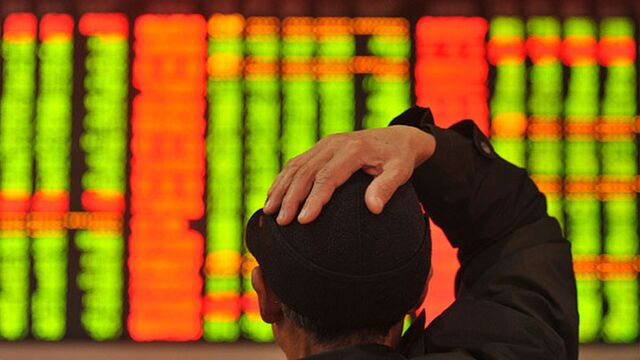 Add a sinking currency to the reasons for global funds to avoid Asia's worst-performing stocks of 2015.
An index tracking Chinese companies traded in Hong Kong slumped 19 percent last year and another 9.4 percent this week as concern over a slowdown in the world's second-largest economy drove the yuan to a five-year low. H-shares are denominated in the Hong Kong dollar, which is pegged to the greenback. Morgan Stanley is shaving about 2 percent off an estimate for the Hang Seng China Enterprises Index's 2016 year-end level for every 0.1 yuan depreciation past its forecast.
The yuan's slump is exacerbating waning global demand for Chinese equities as the slowing economy dents earnings growth. Invesco Ltd. says exchange-rate uncertainty will increase the 29 percent discount on the price of H-shares versus their mainland counterparts. By contrast, domestic investors can ignore yuan volatility since it is their home currency and are taking comfort in government support for the local market.
"The gap will probably widen, with a higher discount for H shares, because you have to take into account that currency depreciation," said Paul Chan, the Hong Kong-based chief investment officer for Asia excluding Japan at Invesco, which oversees $791 billion globally. "Earnings per share in Hong Kong dollar terms are lower, and I pay Hong Kong dollars for those shares."

The Hang Seng China Enterprises Index plunged as much as 4.9 percent in the first hour of trading on Thursday. China fixed the yuan 0.5 percent weaker, spurring a rout in mainland equities that extended past 7 percent, the level where the market is halted for the rest of the day. The H-share index closed 4.2 percent lower.
While a weaker yen helped fuel a rally in Japan's Topix index under Prime Minister Shinzo Abe by boosting earnings of exporters, Chinese companies are heavily focused on their domestic market, according to Mizuho Securities Co. Members of the H share gauge that disclose where they make their revenue receive an average 93 percent of sales from China, where factory growth and inflation are slowing.
Analysts forecast earnings of companies in the index, dominated by the nation's biggest finance and energy companies, will fall 0.8 percent in the next 12 months. Shares of PetroChina Co., China Shenhua Energy Co., China Oilfield Services Ltd. and China National Building Material Co. all lost more than 40 percent in 2015.
"If people are worried about a weakening currency and potentially lower earnings that will be a double whammy," said Andrew Clarke, director of trading at Mirabaud Asia Ltd. in Hong Kong.
Optimists point out that China still has one of the more stable currencies in emerging markets. Brazil's real slumped 33 percent against the greenback last year, while Malaysia's ringgit depreciated 19 percent.
Relative Strength
"The currency story is a relative strength for the Chinese equity story for foreign investors, versus other countries," said Sandy Mehta, the chief executive officer of Hong Kong-based Value Investment Principals Ltd. "China has two major positives in this regard: it has a much more stable currency than almost all other Asia or emerging-market options, and investors can easily hedge the currency risk because there is a lot of liquidity in the yuan futures markets."
The yuan will decline about 1.3 percent to 6.64 a dollar by the end of 2016, from around 6.56 on Wednesday, according to the median estimate in a Bloomberg survey. The currency has already breached that level in the offshore market, where it sank on Wednesday by the most since the day after the devaluation in August.
Valuations on H shares are already so low that the weaker yuan can't make things much worse, according to Nader Naeimi, Sydney-based head of dynamic markets at AMP Capital Investors Ltd., which oversees about $110 billion. The Hang Seng China Enterprises Index traded Wednesday at 6.8 times earnings, approaching valuations in Zambia, the world's cheapest market.

The H-share index will rise 12 percent to 10,830 this year based on an assumption the yuan will be at 6.8 per dollar, Morgan Stanley wrote in a report last month that analyzed the translational impact of currency moves on earnings. That's about in line with the median 10,815 in a Bloomberg survey of 12 strategists. Any further depreciation will curb gains, with the measure ending the year at 9,580 if the yuan weakens to 7.5, Morgan Stanley said. The gauge closed at 8,753.97.
While the yuan's depreciation looks small compared with gyrations in other currency pairs, it hurts companies that hold a lot of U.S. dollar-denominated debt including airlines, Invesco's Chan said. Chinese firms borrowed heavily in U.S. dollars prior to the surprise yuan devaluation in August, anticipating their nation's currency would appreciate steadily. Air China Ltd. fell 2.6 percent last year.
The Hang Seng China AH Premium Index, which measures the gap between prices of dual-listed companies on the mainland versus Hong Kong, climbed to a three-week high on Wednesday as shares in Shanghai rallied while H-shares sank. The gauge is moving in tandem with the weakening yuan as foreign investors sell off Hong Kong-listed shares, Mizuho wrote in a report Dec. 14.
Different Dynamics
"H shares have different dynamics," with investors more concerned about fundamentals and international comparisons than buyers of mainland A shares, Pu Yonghao, chief investment officer of Fountainhead Partners, which oversees about $600 million, said on Dec. 22. "It may be also a bad signal because the Chinese government allowing the currency to devalue probably means its perception on the economy is not good -- otherwise why take the risk to weaken its currency."
While he sees the yuan trading around 7 to the dollar in 12 months, he predicts a possible H share rebound after six months because stocks are "at extremely depressed levels."
Before it's here, it's on the Bloomberg Terminal.
LEARN MORE