Yahoo Urged by Starboard to Overhaul Management, Board
by
Waiting a year for spinoff of Web business is `not acceptable'

Starboard says Yahoo ignored interest from outside parties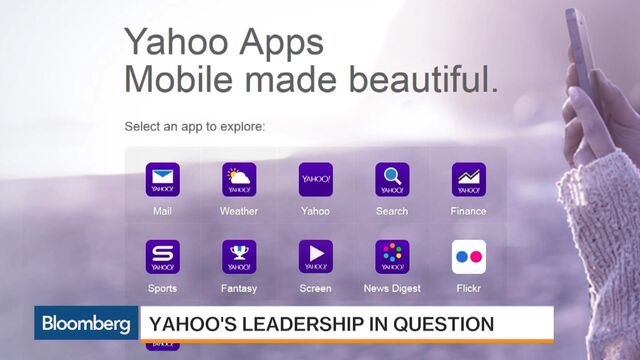 Yahoo! Inc. was urged by activist shareholder Starboard Value LP to overhaul its management and board, saying that "significant changes" were needed at the company.
In a letter to Yahoo's board, Starboard said the Internet pioneer's recent decision to spin off its core Web businesses will require shareholders to wait another year "while the existing leadership continues to destroy value," and that the move is "not acceptable."
A holder of less than 1 percent of Yahoo's shares, Starboard has been agitating for change for months, switching demands part-way through. After urging the company to spin off a lucrative stake in Chinese e-commerce company Alibaba Group Holding Ltd., Starboard later insisted that Yahoo scrap that plan amid concerns the U.S. government would levy a heavy tax bill.
The letter unveiled Wednesday represents the activist's first public statements since Yahoo shelved the spinoff proposal in December and signal an escalation of Starboard's dismay with how the company's being run. The remarks are also the strongest indication yet that Starboard is gearing up for a so-called proxy fight aimed at unseating directors when the board meets next.

Starboard, Yahoo's 26th biggest shareholder as of September, said it believes investors have "lost confidence" in the ability of the current management, which includes Chief Executive Officer Marissa Mayer and Chairman Maynard Webb.
"The real frustration issue is with the board," said Brian Wieser, an analyst at Pivotal Research Group. "Is the board in fact acting in the interest of shareholders or is it being overly deferential to current management?" Is Starboard "trying to call out and build their case so they can identify reasons why the board will need to be replaced in a proxy fight?"
Yahoo gave Starboard some of what it wanted in December, when it abandoned the long-planned spinoff of Alibaba and said it was considering bundling the rest of its assets into a standalone company. But the activist fund and other investors complained the spinoff will take too long and could also have tax implications.
"We will share additional plans for a more focused Yahoo on or before our Q4 earnings call," Yahoo spokeswoman Rebecca Neufeld said in an e-mail. "Our board and management team engage in and maintain regular, open dialogue with all our shareholders."
'No Confidence'
In December, shareholder Canyon Capital Advisors told the board Yahoo needs to prioritize selling off some assets, the core operations or the whole business.
Starboard said in its letter Wednesday that either a sale or spinoff of the core business would work, but said shareholders "have no confidence that management and the board will be able to execute on a separation of these assets or improve the performance." To achieve either objective will require a change in leadership, Starboard said.

Starboard, run by Jeff Smith, said in its letter it believes "several" parties indicated interest in buying Yahoo's core business. It also cited media reports saying that Yahoo has so far "ignored this inbound interest."
Webb told investors last month that the board had not decided whether to sell the company or any part of it for now, but also that the board has a "fiduciary obligation" to entertain any offers.
Investor Pressure
With sales hovering around 2006 levels, Yahoo has been facing pressure from investors for a long time.
In its letter Wednesday, Starboard criticized Mayer for failed attempts over her three years at the helm to turn around the core business, which "continues to be plagued with deteriorating financial performance and an accelerating number of executive leadership departures," Starboard said.
Starboard is one of the most prolific U.S. activists and has successfully forced companies to heed its wishes in the past. Last year, it persuaded investors to replace Darden Restaurants Inc.'s entire 12-member board after the unpopular sale of its Red Lobster chain to Golden Gate Capital. The investment firm also recently helped push office-supply rivals Staples Inc. and Office Depot Inc. into a merger.
Sunnyvale, California-based Yahoo shares closed little changed at $32.16 in New York. The stock fell 34 percent in 2015.
Rob Sanderson, a managing director at MKM Partners, said Yahoo management is expected to reveal details of a significant restructuring during its fourth-quarter earnings later this month.
"We continue to see significant value in the sum-of-parts with the core business again carrying negative value," Sanderson said in a note to clients. "We believe that one way or another, value will become unlocked and would be buyers of the stock at current levels."
Before it's here, it's on the Bloomberg Terminal.
LEARN MORE