Valeant Ex-CFO Schiller Named Interim CEO With Pearson Ill
by and
Ingram to become interim chairman during chief's medical leave

Naming single CEO said to clarify management structure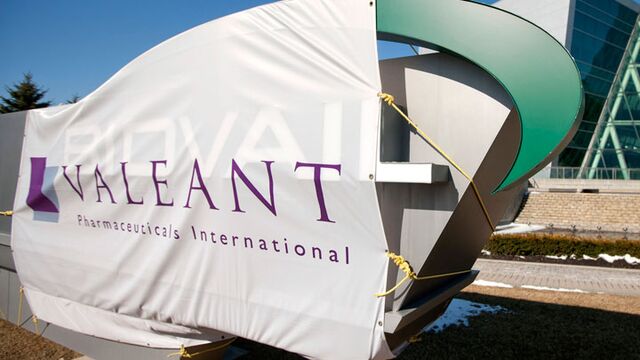 Valeant Pharmaceuticals International Inc. named Howard Schiller to run the company as interim chief executive officer, tapping a board member and former top executive to help restore the company's image while Michael Pearson remains hospitalized with severe pneumonia.
Bob Ingram, a board member and former Glaxo Wellcome CEO, will become interim chairman, also replacing Pearson, Valeant said in a statement. The timing of Pearson's return from medical leave remains uncertain, said the drugmaker, which initially disclosed his hospitalization on Christmas Day.
Valeant shares rose 3.2 percent to $104.09 at 2:24 p.m. in New York, recovering from earlier losses of as much as 3.4 percent. The company had previously appointed a committee of three executives to handle Pearson's duties during his leave.

Pearson's illness has threatened to hamper the company's recent efforts to win back investors' trust after a series of revelations about its drug-price increases and its previously undisclosed relationships with mail-order pharmacies. Last month, the 56-year-old executive urged shareholders to look past concerns that have sent the stock of the Laval, Quebec-based company down more than 50 percent from its August peak, saying they should focus on products that will grow beyond expectations.
Schiller's return marks a second chapter for an executive whose abrupt departure in June -- at the age of 53 -- raised questions with investors about what motivated him to leave. His return may help quell those concerns, said Neil Maruoka, a Toronto-based analyst with Canaccord Genuity. Schiller has said he left because he wished to "pursue new opportunities most likely in areas outside of a publicly-traded company."
The move also signaled confidence that Pearson would return if possible, Maruoka said, because Schiller has already made clear that he is not interested in the position for the long term.
Naming a single CEO will clarify the management structure for investors, a person familiar with the matter said Tuesday. The appointment of Pearson's replacement is meant, at least initially, to be temporary, said the person, asking not to be identified discussing private information.
"Investors are understandably concerned about this development since by now we should be hearing about news of a recovery," Irina Koffler, an analyst at Mizuho Securities USA, wrote in a note to clients Tuesday after news emerged that the board was seeking an interim CEO. "Management risk has been a persistent component of our recent caution on Valeant since we view its leadership as integral to the company."
Active Role
Schiller became Valeant's CFO in December 2011, helping to form the company's model as a serial acquirer. He was in the role during some of Valeant's biggest deals, including its agreement to acquire Salix Pharmaceuticals Ltd. for $11.1 billion and its purchase of Bausch & Lomb Inc. for $8.7 billion. While that shopping spree has added to Valeant's diverse portfolio of medications, it also led to a three-year, $23 billion borrowing binge the company now is working to pay off.
After Schiller stepped down, he remained a board member and has maintained an active role, testifying before Congress on corporate tax rates in July and speaking during a conference call in October when Valeant explained its controversial ties to mail-order pharmacy Philidor RX Services LLC.
"As CFO, we believe that Mr. Schiller was often Valeant's explainer-in-chief, demystifying a difficult-to-follow company after all the acquisitions," Alex Arfaei, an analyst with BMO Capital Markets, said in a note to clients Wednesday. "His clear communication style will be highly valued by investors during Valeant's recovery, and could be exactly what Valeant needs right now."
Prior to Valeant, Schiller spent 24 years at Goldman Sachs Group Inc., where he ran the bank's health-care practice before becoming the chief operating officer. The bank advised Valeant on its purchase of Biovail Corp.
"We think Howard will do an outstanding job and have enormous confidence in him," Bill Ackman, whose Pershing Square Capital Management is one of Valeant's largest shareholders, said Wednesday on CNBC.
More Transparency
Valeant has drawn scrutiny from lawmakers and investors for its use of mail-order pharmacies, price increases and acquisitions for growth. Before his illness, Pearson had promised shareholders to provide more transparent data about Valeant's business, including sales figures for its top 30 drugs.
Pearson reached a deal in December with Walgreens Boots Alliance Inc. to sell Valeant drugs in the drugstore chain's pharmacies, replacing an arrangement with a Philidor.
Pneumonia is an infection of the lungs caused by bacteria, a virus or fungi, with symptoms including cough, fever and difficulty breathing. With treatment, most patients improve within one to three weeks, according to the American Lung Association. About 53,000 people in the U.S. died of it in 2013, said the Centers for Disease Control and Prevention.
"We appreciate the expressions of support and concern for Mike's health that we have received from Valeant's investors, employees, business partners and other stakeholders," Ingram said in the statement Wednesday. "While Mike's illness was sudden and unexpected, our strong management team has stepped in to keep our businesses on track and thriving."
Before it's here, it's on the Bloomberg Terminal.
LEARN MORE