U.K. Tech Startups Raise Record Venture Capital in 2015
by
Venture capital investment rose 70% in 2015 from year earlier

Financial tech companies raised nearly quarter of $3.6 billion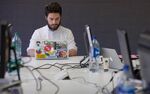 Growing peer-to-peer lending and online money transfer services helped raise a record $3.6 billion in venture capital funding for the U.K.'s technology sector last year, according to data compiled by London & Partners.
The largest single investment in the industry was attracted by London-based small-business lending platform Funding Circle, which raised $150 million in April, led by DST Global. Other companies with sizable investments included lending service Zopa and money transfer services TransferWise and WorldRemit. The report defines technology as Internet, computer hardware & services, software and mobile & telecommunications companies.
According to the data, half of all venture capital investments into London's tech sector originated in the U.K., followed by the U.S. (29 percent), Israel (4 percent) and Germany (2 percent). Index Ventures was cited as the most active of these investors, alongside Accel Partners, Balderton Capital, 83North and Hoxton Ventures.
London's expanding financial technology sector, which had a record year in 2015, houses a growing number of startups eager to challenge traditional banking's grip on the movement of money. The phenomenon isn't unique to the city, with even established companies from around the world finding the prospect attractive. Earlier this week, French telecommunications giant Orange SA entered talks to buy a majority stake in Groupama Banque SA, with the goal of diversifying into savings, loans and insurance services.
London is the top European destination for venture funding, ahead of Berlin, yet it lags behind New York in a game dominated by Silicon Valley. The U.K. accounted for about a third of European venture capital volume in the third quarter of 2015, which in turn is about 10 percent of global venture investment, according to CB Insights. 
Other U.K.-originated growth stories include Deliveroo, the online food-delivery service, which raised $195m in three separate funding rounds last year, starting operations in Asia, Australia and Middle East. London continued to dominate the nation's venture investment, with 63 percent of funds coming to the capital.
Before it's here, it's on the Bloomberg Terminal.
LEARN MORE