Chinese Automaker to Let Customers Test Drive Autonomous Cars
Bloomberg News
BAIC to give customers test drives of autonomous vehicles

Plan is first involving multiple cars moving at same time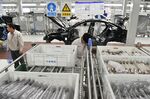 Chinese automaker BAIC has an ambitious plan for beating Apple Inc. and Google Inc. in the autonomous car business: take the driver out of the test drive.
BAIC Group will be the first company to let customers ride in driverless cars that are maneuvering around each other, said Rong Hui, the executive overseeing the effort. This spring, BAIC will run as many as 10 electric cars on a course encompassing three American football fields, with features including traffic lights and faux landmarks such as housing and a hospital.
The concept may resemble a World's Fair exhibit: BAIC aims to showcase its autonomous vehicle know-how and give Chinese consumers a glimpse into the future of automotive technology. The company is seeking its place in a crowded niche that includes the world's biggest automakers and technology companies such as Baidu Inc. One of every 10 vehicles sold worldwide by 2030 may be fully self-driving, and China is pushing domestic carmakers to develop that expertise in order to stimulate economic growth and maintain relevance against U.S. and European rivals.
"Autonomous driving will be the top investment area over the next five to 10 years," said Xu Yingbo, chief analyst with Citic Securities Co. in Beijing. "Driverless driving is the ultimate goal that automakers are striving for."

This week's Consumer Electronics Show in Las Vegas features presentations by Ford Motor Co., Volkswagen AG and Kia Motors Corp. Ford on Tuesday announced a tripling of its driverless fleet to 30 vehicles for testing in California, Arizona and Michigan.
Apple, Google
Ford is teaming up with Google to build driverless cars, and Apple has assembled a several-hundred-person team to begin work on a vehicle. Baidu Chief Executive Officer Robin Li demonstrated a driverless-car system to Chinese President Xi Jinping in December after the company completed its first road test in Beijing.
To keep pace, BAIC is seeking outside investors to help fund its autonomous-driving projects, said Rong, assistant president of BAIC Motor Corp., the Hong Kong-listed unit. Discussions are being held with venture-capital firms, Internet companies and technology companies. Autonomous driving is a top research priority during the next five years.
"There are a lot of investors who want to join us," Rong said before declining to identify them. "We are on track to become the first automaker that tests multiple self-driving cars at the same time."
BAIC is building the 20,000-square-meter (5-acre) course outside the Beijing Auto Show that starts in April. Customers will schedule hands-free test drives through a mobile application being developed by BAIC. To make the experience more realistic, some human-piloted vehicles will be in the mix. "We aim to demonstrate to the public what the traffic environment will look like in the future," he said.
Modernizing Economy
Rong declined to comment on how much the company is spending on the effort or what types of cars will be available for testing.
BAIC is owned by the Beijing municipal government and makes cars with venture partners Hyundai Motor Co. and Daimler AG. It is China's fifth-largest automaker -- with a lineup including sedans, trucks, ambulances and military-style vehicles -- and counts Senova cars and SUVs among its bestsellers.
Chinese Premier Li Keqiang is pushing a national plan to use the Internet to modernize an economy that likely grew at its slowest pace since 1990 last year. That means integrating cloud computing, artificial intelligence and Internet-connected devices into traditional industries such as manufacturing.
SAIC Motor Corp. and Chongqing Changan Automobile Co., Ford's Chinese partner, also are developing driverless cars. Chinese companies want to ensure their share of a global auto market expected to reach $6.7 trillion in revenue in 2030, according to a McKinsey & Co. study this week. That also should boost the nation's software and semiconductor industries, with software expected to contribute as much as 20 percent to a car's value, compared with 5 percent now.
Overseas Tests
"SOEs like BAIC are not necessarily pursuing R&D investment with an immediate economic return," said Janet Lewis, a Hong Kong-based analyst at Macquarie Group Ltd. "It's often for the purpose of showcasing Chinese ability or leadership."
In China, companies developing driverless cars need to work with local governments to allow those vehicles on the road. BAIC is in discussions with more than 10 municipal authorities, and it expects to start tests in at least three cities this year, Rong said.
The company also is in talks with authorities in several Asian countries, with plans for an overseas road test this year. Rong declined to name the locations.
"2016 is a vital year for autonomous-car development," he said. "We have the confidence to do this because we are ready."
— With assistance by Tian Ying
Before it's here, it's on the Bloomberg Terminal.
LEARN MORE