Stock Havens Prove Elusive as Volatility Expands Around World
By
Implied volatility rises in funds tracking global assets

Bigger moves the new normal since August S&P 500 correction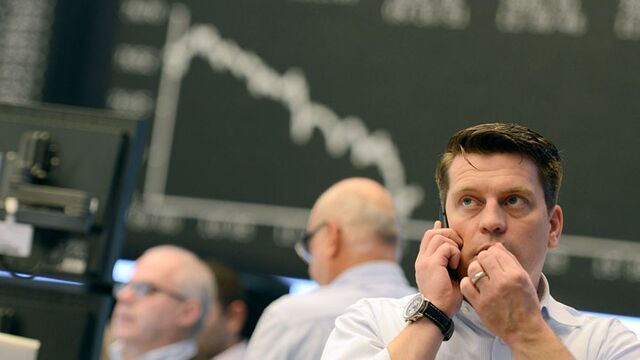 Investors running for cover as a rocky start for equities gets worse are having trouble finding safe places to take cover.
Calm is proving elusive within the U.S. stock market and beyond, as the second tumble in three days for the Standard & Poor's 500 Index has been accompanied by rising volatility in exchange-traded funds tracking higher-yielding assets from corporate bonds to shares in Europe and Australia.

Among 44 funds followed by MKM Partners LLC's derivatives strategist Jim Strugger, options prices in 32 are suggesting higher future volatility than they have 75 percent of the time in the past year. In 15 of those, options traders have turned the most bearish they've been at any time during that stretch.
"We've transitioned from a high volatility environment not just for equities but for volatility across asset classes," Stamford, Connecticut-based Strugger said by phone. "It's a tough way to start the year, seeing it across these ETFs. You can't say what's going to happen tomorrow but this is longer term. The floor for volatility is now elevated and will persist until we eventually go into a bear market."
A 300-point decline in the Dow Jones Industrial Average led stocks to a three-month low Wednesday and emerging-market equities fell to the cheapest since 2009 as an unexpected weakening of China's currency prompted concern over global growth. The U.S. benchmark has lost 3.3 percent since the beginning of the year. 
If options traders prove prescient, declines won't be limited to U.S. stocks. Among the exchange-traded funds tracked by Strugger, the price for bearish puts relative to bullish calls has climbed to at least the 80th percentile in funds tracking high-yield U.S. corporate bonds, large-cap Chinese stocks, Japanese stocks, and an index tracking equities in developed countries outside the U.S. and Canada. 
Options bets against riskier asset classes around the world are closely tied to rising volatility in U.S. stocks, Strugger said. Bigger swings in U.S. stocks can be seen in the distribution of daily returns: prior to the S&P 500's correction in August, the daily move of the index fell within a loss or gain of 0.4 percent more than 40 percent of the time, according to data compiled by Bloomberg. Since then, such small moves have happened only a quarter of the time.