Sony Sticks to TVs, Audio While Staying Mum on Virtual Reality
by
CEO Kaz Hirai sticks to video and audio hardware at CES

Exact price and launch date for PlayStation VR remain unclear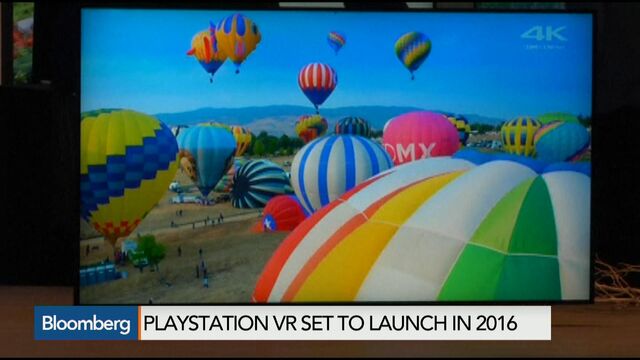 One gadget missing from Sony Corp.'s parade of products at the International Consumer Electronics Show was also its most anticipated in decades: a virtual reality headset for the PlayStation 4.
Chief Executive Officer Kazuo Hirai took the wraps off a slew of devices reflecting the Japanese company's traditional expertise in video and audio hardware: from a 4K camcorder and vinyl record player to a lightbulb-speaker. Conspicuously absent was Sony's answer to the Oculus Rift, a day before pre-orders for Facebook Inc.'s VR-headset entry begin.

Virtual Reality is one of the major themes at the annual electronics show held in Las Vegas this week. HTC Vive, a joint effort between Taiwan-based smartphone maker HTC Corp. and Half-Life game publisher Valve, has rolled in an 18-wheeler offering demos and promised to unveil a technological breakthrough at the event.
Sony, on the other hand, decided to play down its virtual reality offering with only a handful of demos at its booth. Hirai took the stage in Las Vegas on Tuesday, touting digital cameras and the PlayStation 4. The company has said its PlayStation VR goggles will go on sale in the first half of the year and cost about as much as a PS4 console, which retails for more than $300 in the U.S.
"PlayStation 4 sets a benchmark for our organization in terms of collaboration, engineering, creativity, artistry and also experiential design," he said.
High-Res Audio
Sony unveiled a 4K handycam and a slimmer Bravia TV model. The company is also launching Ultra, an app that allows users to buy and stream 4K, or ultra high-definition, movies on its Android TVs.

"Two years ago I said, 4K for the price of 2K. Last year, I said 4K for 1K," Mike Fasulo, president and chief operating officer at Sony Electronics, told the CES crowd. "This year I say, 4K for everyone." 
"I know it's weak, but that's all I have," he added, drawing laughter.
The company also announced new audio products including portable speakers and wireless headphones.
Year Zero
About 7 million VR headsets will be sold by the end of 2016, according to market researcher IHS Technology. By 2020, the market is expected to reach $2.6 billion with 37 million headsets sold.

Sony's nearly 36 million-strong global base of PS4 consoles may give the company an advantage over rival headsets, which require a high-end computer to run. The company can also leverage two decades of experience working with game studios and already has more than 100 titles in development.
While Hirai never directly mentioned VR, he alluded to Sony's desire to rise above the crowd.
"This is a choice at Sony to stand out from the crowd, not simply to fit in," Hirai said. "This is a choice to make objects of sensation."
Before it's here, it's on the Bloomberg Terminal.
LEARN MORE