Shale Explorers Pump Oil on the Cheap From Slumbering U.S. Wells
by
Drawing down shale fracklog presents lower-cost option

Frack crews sent home in '15 may be recalled this year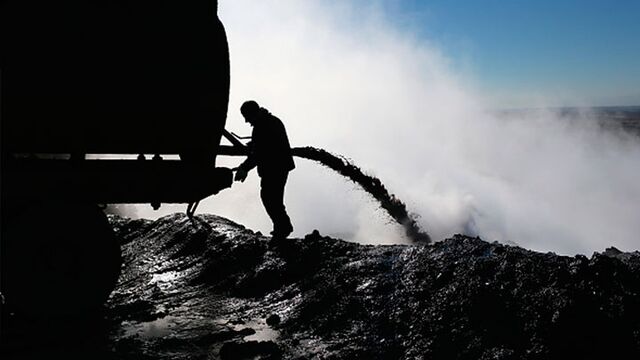 U.S. shale explorers will be able to bring new supply to market this year even with most of the rig fleet idled and drilling budgets cut to the bone. Their secret: thousands of mothballed wells.
Companies from Exxon Mobil Corp. to EOG Resources Inc. have 3,994 wells drilled between Jan. 1, 2014, and Aug. 31 with active permits that had not been completed as of Dec. 18, according to William Foiles and Andrew Cosgrove, analysts at Bloomberg Intelligence.
The fracklog, as the cache of suspended wells stretching from south Texas to the Rocky Mountains is known, is growing as the worst crude-market downturn in a generation spurred them to halt projects early to conserve cash. Global oil markets are in turmoil amid a market-share war between OPEC and American shale explorers that has created a flood of excess supply and slashed the value of crude by two-thirds in the past 18 months.
Finishing the wells means significantly higher spending efficiency for these companies because they won't have to put new holes in the ground to add to output, Cosgrove said in a telephone interview. "Costs for the drilling portion are essentially sunk."
First Option
The unfinished wells are probably the first option for increasing or maintaining output because they will cost less than new wells to bring online, eating up a smaller portion of 2016 budgets, according to Foiles and Cosgrove. Boring a hole into shale represents about 30 percent to 35 percent of the total well cost, with the remaining 65 percent to 70 percent goes to hydraulic fracturing, or fracking.
More than one in five of those resides in the Eagle Ford shale of south Texas, where wells typically produce higher concentrations of less profitable condensate and natural gas.
"Operators will likely draw on these wells in 2016 as their spending tightens and service cost reductions slow," Foiles and Cosgrove wrote.
While finishing the uncompleted wells will allow some producers to keep pumping for less money, overall U.S. output is expected to decline this year as explorers cut back on drilling in other regions. Production nationwide will fall 570,000 barrels a day this year, the Energy Information estimates, part of the drop in supply needed to curb the global overhang.
With the world currently burning about 95 million barrels of crude every day, the 100,000 to 300,000 barrels of daily supply that the suspended wells could add to the existing glut probably wouldn't be enough to depress prices further, according to Raymond James & Associates.
Rig Pain
While long-term rig contracts prevented explorers from suspending some drilling as crude prices collapsed, fracking crews fell to the budget ax because they operate under shorter arrangements and could be sent home without incurring costly penalty fees for explorers, according to the Bloomberg Intelligence analysts.
The drawdown of the fracklog will also deliver more pain to the owners of onshore rigs, from Helmerich & Payne Inc. to Nabors Industries Ltd., as their drilling equipment continues to sit on the sidelines. Explorers are already getting more bang for their buck as rental prices for the rigs are down while efficiency of the drilling equipment continues to improve. The number of drilling rigs employed by U.S. explorers has dropped by two-thirds from October 2014, Baker Hughes data show.
EOG, Chesapeake Energy Corp., Anadarko Petroleum Corp. and Exxon's XTO unit are among the biggest owners of suspended wells, the analysts said.
Before it's here, it's on the Bloomberg Terminal.
LEARN MORE