Private Payrolls, Service Industries: U.S. Economic Takeaways
by and
ADP figures show companies added most workers in a year

ISM non-manufacturing report points to further expansion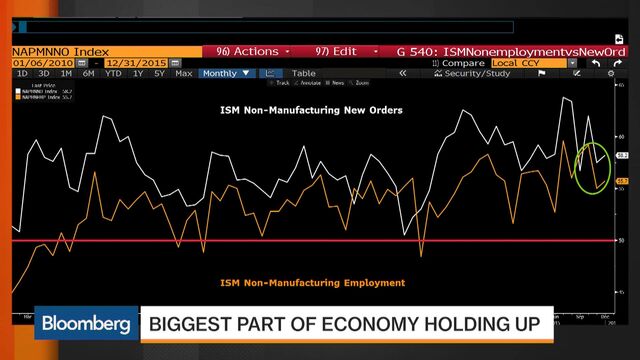 What you need to know about Wednesday's U.S. economic data:
ADP PRIVATE EMPLOYMENT (DECEMBER)
Gain of 257,000 exceeded 198,000 median estimate and was strongest since the end of 2014
Broad improvement as payrolls rose at large, medium and small companies
Service providers added 234,000 jobs, while factories took on just 2,000
The Takeaway: The report shows no let-up in hiring and validates the decision last month by Federal Reserve policy makers to raise interest rates. At this pace of hiring, the economy may reach full employment by mid-2016, according to economist Mark Zandi at Moody's Analytics. While the ADP figures have a spotty track record at predicting payroll changes in the Labor Department's monthly employment report, the results provide some confidence that Friday's government data will show job gains on the order of 200,000. The surge in employment at service providers, which was the third-most since January 2012, and the modest improvement at factories highlights the dichotomy in U.S. hiring as manufacturers are more exposed to weakness in the global economy.

ISM NON-MANUFACTURING (DECEMBER)
55.3, lowest since April 2014, after 55.9 in November
Decline due to a three-year low in supplier deliveries index (shorter lead times), while orders, business activity and employment advanced
Average difference between services index, factory gauge over last six months was widest since 2001
Eleven of 18 non-manufacturing industries expanded, led by restaurants, support services, retailers and health care
The Takeaway: The decline in the index was less concerning because it was solely caused by the slump in the deliveries gauge. That meant suppliers were less busy processing other orders and were able to more quickly provide goods to non-manufacturers. ISM survey chairman Anthony Nieves said that was because a lack of imports and already well-stocked shelves meant transportation companies were able to process holiday orders faster. Even as factories have slumped on weak global demand and a strong dollar, the services firms that make up almost 90 percent of the U.S. economy are holding steady on solid domestic demand, creating the biggest gap between the two gauges in more than 15 years.

TRADE DEFICIT (NOVEMBER)
Narrowed 5 percent to $42.4 billion ($44 billion estimate)
Value of imported merchandise fell to lowest level since February 2011
Exports of goods and services declined to lowest in almost four years
The Takeaway: Even with the improvement, trade will probably be a small negative for fourth-quarter economic growth. Weak global demand and an appreciating U.S. dollar have combined to drive down exports, a scenario that's been playing out in the trade numbers for months. Imports are also beginning to soften, posting their third straight decline in November. While that's probably reflective of companies' holding back on orders as they attempt to better align their inventories with sales, it may also indicate domestic demand more broadly is taking a step down. Several economists said the drag from net trade may be similar to that in the third quarter, when it shaved about 0.3 percentage point from growth.

Before it's here, it's on the Bloomberg Terminal.
LEARN MORE