$30 Oil Just Got Closer as WTI Slides to 12-Year Low on China
By
WTI oil falls 2.1 percent as U.S. equities join global rout

Diesel slips to lowest since 2004, gasoline lowest since 2009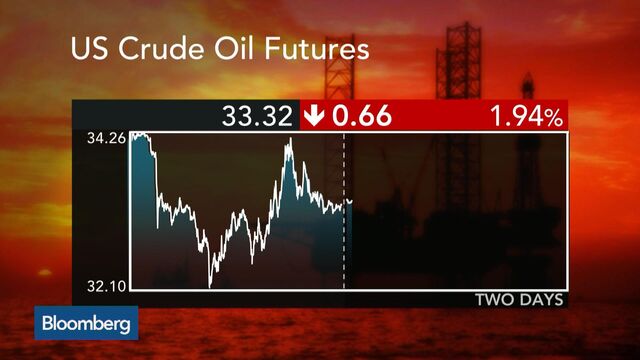 Oil dropped to the lowest in 12 years as turmoil in China's markets pushes crude closer to $30 a barrel.
West Texas Intermediate crude fell 2.1 percent on concern that the economic slowdown in the world's biggest commodity consumer is worsening. The rout eased after China's regulator suspended a circuit-breaker rule that halted trading automatically. Saudi Arabia is considering selling a stake in its state-owned company, which controls more than a tenth of the global oil market, Mohammed bin Salman, the kingdom's deputy crown prince, said in an interview with The Economist.
"This is going to be a painful couple of months no matter what happens," Scott Roberts, portfolio manager and co-head of high yield who manages $2.7 billion at Invesco Advisers Inc. in Atlanta, said by phone. "The question now is whether the slowdown in China will reduce demand for gasoline and diesel."
Oil capped the biggest two-year loss on record in 2015, exceeding the slump driven by the Asian economic crisis from 1997 to 1998 that sent Brent to $9.55 and WTI to $10.35. The Organization of Petroleum Exporting Countries effectively abandoned output limits last year, adding to the global glut. Crude stockpiles at Cushing, Oklahoma, the delivery point for the U.S. benchmark oil, rose to a record, government data showed Wednesday.

WTI for February delivery dropped 70 cents to settle at $33.27 a barrel on the New York Mercantile Exchange. It was the lowest close since February. Prices touched $32.10, the lowest level since Dec. 29, 2003. Total volume traded was 45 percent higher than the 100-day average at 2:45 p.m. The most-traded option on Nymex gave holders the right to sell February futures at $30 amid record volume for the put.
Brent for February settlement slipped 48 cents, or 1.4 percent, to $33.75 a barrel on the London-based ICE Futures Europe exchange. It was the lowest close since June 2004. The European benchmark was at a 48-cent premium to WTI on ICE.
The global economy will sputter along this year as China's slowdown prolongs a commodity slump, the World Bank said Wednesday. The Washington-based development bank lowered its forecast for 2016 growth to 2.9 percent, from a 3.3 percent projection in June, according to its bi-annual Global Economic Prospects report.
"Even the biggest Pollyanna in the world now knows there is trouble brewing in China," Stephen Schork, president of the Schork Group Inc. in Villanova, Pennsylvania, said by phone. 
Crude supplies at Cushing expanded for a ninth week to 63.9 million barrels last week, according to Energy Information Administration data released Wednesday. The hub has a working capacity of 73 million barrels. Nationwide supplies are more than 120 million barrels above the five-year average.
Massive Oversupply
"The market is very focused on the risk of a hard landing in China and emerging markets, which is a replay of August," Mike Wittner, head of oil-market research in New York at Societe Generale SA, said by phone. "Heightened fears about China come as we face massive oversupply and no sign that this will ease in the next six months."
Gasoline stockpiles climbed to 232 million barrels in the week ended Jan. 1, the highest since March, according to the EIA. Supplies of distillate fuel, the category that includes diesel and heating oil, climbed 6.3 million barrels to 159.4 million, the most since February 2011.
February gasoline futures dropped 1.4 percent to $1.146 a gallon, the lowest close since February 2009. Diesel for February delivery declined 1.4 percent to $1.0656, the lowest settlement since July 2004.
A potential initial public offering is under review for Saudi Arabian Oil Co., also known as Aramco, Salman, told the Economist. A decision will probably be taken in the next few months, he said, without giving further details. Aramco could rival Apple Inc. as the world's biggest listed company. It is solely responsible for tapping the world's second-largest crude reserves.