No End to S&P 500 Slide Seen in Cyclical Equity Woes: Analysis
2016's bad start may be set to continue for some time
by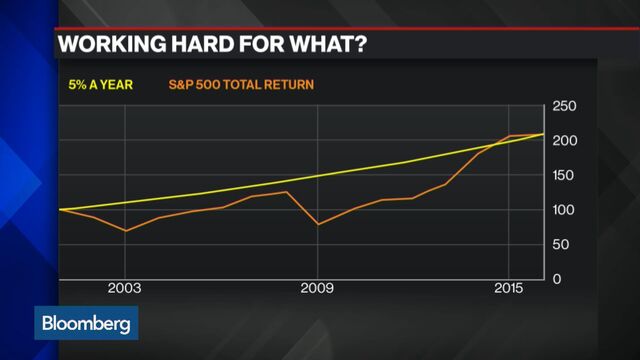 Those looking for relief from recent losses in the Standard & Poor's 500 Index will find little comfort in a ratio showing the underperformance of cyclical stocks relative to defensive peers since early November, Bloomberg strategist Sejul Gokal writes.

A similar divergence last summer between the ratio and the benchmark index for U.S. stocks eventually resolved with the S&P 500 capitulating, driven in part by China's economic woes and shock yuan devaluation.
Growth concerns have resurfaced, with Chinese stocks tumbling on Monday after manufacturing shrank for a fifth straight month. In the U.S., an Institute for Supply Management report for December showed the fastest manufacturing contraction in six years.
Other technical indicators suggest ongoing U.S. equity underperformance relative to long-term bonds. A ratio of stocks to bonds is back below its 200-day moving average with the Moving-Average Convergence Divergence study turning back lower after failing to rise above zero.

Note: Sejul Gokal is a strategist who writes for Bloomberg. The observations he makes are his own and are not intended as investment advice.
Before it's here, it's on the Bloomberg Terminal.
LEARN MORE