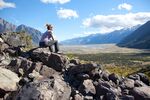 New Zealand is proving surprisingly popular despite being near the end of the earth. So much so that policy makers keep having to rewrite their economic forecasts.
A record influx of migrants in the past two years has seen more people seeking work, reducing pressure for wage rises and helping to keep inflation well below the central bank's target. This encouraged the Reserve Bank of New Zealand to reverse policy in 2015, cutting interest rates four times in six months and saying further easing is possible in 2016.
"Everybody has continued to be surprised at how strong immigration has remained," said Craig Ebert, senior economist at Bank of New Zealand in Wellington. "Every month you think surely this is the month when it starts to cool off, and it just doesn't. Where it goes will be really important for the economic story in the next year or two."
Despite being at the bottom of the world and a more than 12-hour flight from Shanghai or San Francisco, New Zealand remains attractive to migrants for its political stability, lifestyle and relatively strong economy. More New Zealanders are also staying home rather than emigrating to neighboring Australia, where the end of a mining boom has meant fewer high-paying jobs for foreigners there.
New Zealand's population grew 2 percent in the year through September to 4.6 million, the fastest pace in more than 20 years. 
By contrast, Australia's population growth slowed to 1.4 percent in the year through June as the economy weakened, making it less attractive to migrants. About 21,300 New Zealand citizens departed for Australia in the year through November, down from 48,600 three years earlier, according to government figures.
Foreign student arrivals to New Zealand have surged 82 percent in the past two years as institutions attract young Indians and Chinese, while the number arriving on work visas has increased 25 percent since 2013 amid increased demand in the construction and software development industries. The U.K. was the biggest source of workers followed by France, Australia and Germany in the most recent 12-month period.
The RBNZ last month estimated net arrivals of working-age migrants surged to a record 55,400 in 2015 -- 32 percent higher than its projection just 12 months earlier and three-and-a-half times its 2013 forecast.

Treasury and bank economists have also been wrong-footed by the strength of the inflow, which has coincided with falling oil prices and slower economic growth to drive inflation as low as 0.3 percent. The Reserve Bank aims for 2 percent. 
Governor Graeme Wheeler, who has now unwound all of his 2014 rate tightening, said Dec. 10 the RBNZ had been surprised by the scale of immigration. While the boost in population has stoked consumption and housing demand, it has been the supply side impact on the labor market that has affected the economy more quickly, giving it the capacity to absorb growth without pushing up prices, he said.
Wheeler expects 120,000 more immigrants in the three years through December 2018.
Before it's here, it's on the Bloomberg Terminal.
LEARN MORE