Goldman: There's a Huge Difference Between the Tech Bubble and Today's Market
Technology is actually is contributing to earnings.
by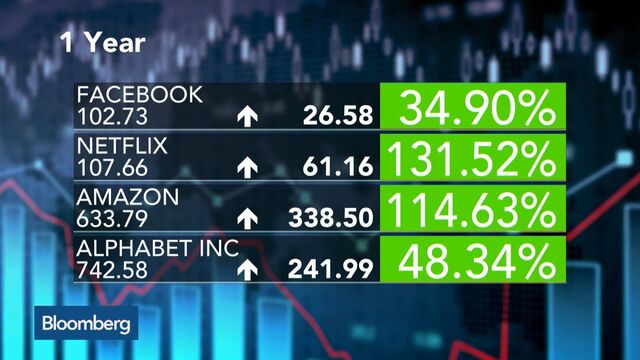 The rise of tech start-ups with sky-high valuations as well as the 'FANG' group of stocks that includes Facebook Inc., Amazon.com Inc., Netflix Inc. and Alphabet Inc. (Google), has generated much concern over whether or not we are in another tech bubble.
According to Goldman Sachs, there's at least one important difference between the confirmed tech bubble we saw in the late 1990s and early 2000s and today. The team at Goldman, led by Chief U.S. Equity Strategist David Kostin, says the big difference is earnings.
"At the peak of the tech bubble, information technology never generated more than 16 percent of the S&P 500's earnings. The profit contribution from [IT] increased over the past few years and the sector now accounts for 20 percent of S&P 500 net income."
Here's a look at the two charts the firm uses as the basis for its argument.
The first shows sector composition in the S&P 500 dating back to 1974. The chart points out the energy bubble, tech bubble and most recently the financial bubble. At its peak, tech accounted for roughly a third of the S&P's market cap. It currently accounts for 21 percent.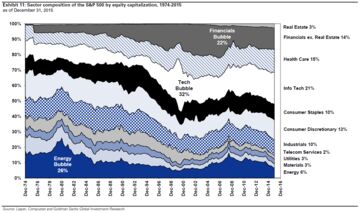 Next, take a look at each sector's contribution to the S&P 500's total net income. During the tech bubble, tech never accounted for more than 16 percent of total earnings. Today, where it makes up a smaller portion of the S&P 500 sector composition, it contributes 20 percent.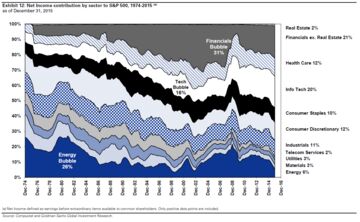 In other words, technology is actually contributing a lot to net income this time around. This time is different etc.
Goldman remains bullish on tech (along with financials), echoing the consensus sentiment of Wall Street. For example, in its year-ahead outlook, Deutsche Bank said health care and technology were the two sectors that gave them reason to be bullish on the S&P in 2016.
Together, these two account for roughly 36 percent of the S&P 500 sector composition and 32 percent of net income contribution. Sectors that are expected to lag, such as energy, only make up about 6 percent of the S&P by both market value and net income contribution. 
Before it's here, it's on the Bloomberg Terminal.
LEARN MORE