Germany Tracking Shift in Global Growth Drives Europe's Recovery
by
Exporters skirt China slowdown as demand rises in U.S., Europe

Economy also benefits from robust domestic consumption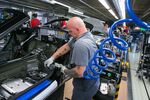 Germany's flexible formula for economic success is still delivering.
The country's exporters are increasing shipments to the U.S. and the euro area, tapping into an accelerating recovery in advanced economies just as growth in emerging Asia slows. Paired with robust domestic demand benefiting from record-low unemployment and expansive monetary policy, the German economy stands to drive growth in the 19-nation currency bloc and outperform both France and Italy again.
Germany's pillar of strength is a versatile manufacturing sector that guided Europe's largest economy through the Great Recession by shifting its attention to faster growing eastern markets. It's now looking west and, with the weaker euro a boon to foreign sales, the result forecast is another export record.
"German exporters have a long tradition of flexibility," said Holger Schmieding, chief economist at Berenberg Bank in London. "So far the rebound in demand from traditional partners in Europe and the U.S. has offset the fall in emerging markets and exports to Asia will also pick up in the next two years."

While domestic demand has been the main contributor to economic growth in three of the last four quarters for which data are available and exports continued to increase, imports rose even faster. Net trade subtracted 0.4 percentage point in the July-October period after adding 0.6 percent in the previous three months.
The BGA Federation of German Wholesale, Foreign Trade and Services estimates that exports gained as much as 6 percent last year, with imports up about 4 percent. It predicts both will reach record highs in 2016.
Shipments to the U.S. jumped more than 20 percent in the 10 months through October from the previous year, while sales to China slipped 4.2 percent, according to data by the statistics office. Data for November will be released on Friday, alongside the latest industrial-production report.
A gauge of German manufacturing and services activity unexpectedly jumped to the highest level in 17 months in December amid rising new orders.
"Germany is living up to its role as Europe's growth engine once again," BGA President Anton Boerner said in a Dec. 28 statement. "But all that glitters isn't gold. The weak euro in particular exaggerates our economic strength in global markets."
The single currency fell almost 10 percent against the dollar in 2015 amid large-scale asset purchases by the European Central Bank. Andreas Scheuerle, an economist at Dekabank in Frankfurt, estimates that the depreciation is responsible for more than 2 percentage points of the increase in German sales abroad last year.

In the next two years, the impact of the weaker euro should fade, with exports increasingly benefiting from a recovery in global trade, the Bundesbank said in its December monthly report.
The European Commission predicts gross domestic product in Germany will rise 1.9 percent this year, beating the 1.4 percent expected in France and 1.5 percent in Italy. The euro-area economy may grow 1.8 percent.
Manufacturers are optimistic about foreign trade. Export expectations as measured by the Munich-based Ifo institute jumped to a nine-month high in December after the U.S. overtook China as the main source of demand for German-made machinery.
In reaction to growing trade, Hapag-Lloyd AG, Germany's biggest container shipping line, added a weekly service between northern Europe and the U.S. east coast last year. European seaborne container exports to the world's largest economy rose about 10 percent industry-wide in 2015, according to spokesman Rainer Horn.
That's not to say that a slowdown in emerging markets will leave the German economy unaffected.
ThyssenKrupp AG is already seeing an impact from weaker growth in China. Andreas Schierenbeck, who heads the company's elevator business, has warned that "it's impossible to fully compensate" if there's a hard landing in an economy that accounts for about two-thirds of new installations in the industry.
Even if China and its neighbors pick up in the coming months, their economic expansions are likely to rely more on private demand and less on investment than in the past, according to Dekabank's Scheuerle.
"This will be a challenge as German companies are less strong on consumer goods," he said. "At the same time, it will also be an opportunity for firms to re-arrange their product portfolio."
Before it's here, it's on the Bloomberg Terminal.
LEARN MORE