Corbyn Sees Further U.K. Labour Splits as Three Spokesmen Quit
by and
Resignations follow shadow-cabinet dismissals for disloyalty

Benn stays in foreign-affairs position after Syria split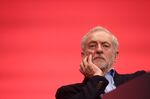 Three members of the U.K. Labour Party's team of spokesmen resigned in protest Wednesday after leader Jeremy Corbyn carried out a reshuffle in an attempt to impose his authority on lawmakers. The moves are a sign of continuing splits in the main opposition to Prime Minister David Cameron's Conservatives.
Kevan Jones, Stephen Doughty and Jonathan Reynolds quit over policy differences and the treatment of others fired by Corbyn, who made changes to what's known as the shadow cabinet to allow a fellow opponent of nuclear weapons to take on the defense brief and to punish what he saw as disloyalty. Jones cited Corbyn's security policies in a direct attack on his credibility.
"All you're going to turn the Labour Party into is a protest party and a talking shop," Jones told BBC Radio 4's "World at One" program, before warning that its defense and security policies will lead to a hemorrhaging of votes across Britain. "The London-centric view of defense is not necessarily in the interests, I don't think, of many thousands of defense workers or members of the armed forces that are out there in the country."
Corbyn's reshuffle, in which he fired Europe spokesman Pat McFadden for making comments seen as being against his leadership, followed 34 hours of negotiations with other senior members of his team. It laid bare Labour's divisions and highlighted Corbyn's difficulties in leading a group of lawmakers who largely don't support him.
Foreign Affairs
There had been U.K. newspaper reports Corbyn wanted to move foreign-affairs spokesman Hilary Benn, who had contradicted him in a parliamentary debate by supporting airstrikes on Islamic State in Syria. In the end, Benn stayed in his role. However, if he disagrees with Corbyn, he won't be able to express those views from the Labour front bench in the House of Commons, the party's finance spokesman, John McDonnell, told BBC Radio 4 on Wednesday.
Benn later contradicted his shadow-cabinet colleague, denying he had agreed to fall into line behind Corbyn on issues where they disagree. "I haven't been muzzled," he told the BBC. "I'm going to be carrying on doing my job exactly as before."
Another Corbyn critic, Maria Eagle, was moved from defense to culture. She was replaced by Emily Thornberry, who unlike Eagle has voted against Britain's Trident nuclear-weapons system. Corbyn and Thornberry represent neighboring electoral districts in Islington, north London.
"Our defense policy is being controlled by north London," Jones said. Eagle "did not want to move; she made that clear."
Terrorist Responsibility
McFadden joined the former culture spokesman, Michael Dugher, in announcing his own dismissal. He said Corbyn had told him in a phone call that it was in part because of a question he'd asked Cameron following last year's terrorist attacks in Paris. In it, McFadden had said that terrorists, rather than the West, bore responsibility for their actions.
"He referred a few times to this question," McFadden told the BBC, describing his conversation with the Labour leader. "He said he felt that it was an attack on him. He clearly feels that me saying that terrorists are entirely responsible for their actions, he clearly interpreted that as an attack on him."
Cameron quoted McFadden's view on terrorists and used it to attack Corbyn during his weekly question-and-answer session in the House of Commons on Wednesday.
'Speaks Volumes'
"He was absolutely right to say that, and frankly I think it speaks volumes that he can't sit in the shadow cabinet with the leader of the opposition," Cameron told lawmakers. "One day this reshuffle, I suppose, will be over, and we will be left with a collection of politicians who've signed up to unilateral nuclear disarmament, who've signed up to wracking up taxes, debt and spending and one of the most left-wing programs in living memory."
In his letter to Corbyn announcing his resignation early on Wednesday, Reynolds attacked Corbyn's continued relationship with the Stop The War Coalition, which published articles blaming Islamic State terrorist attacks on the West. Reynolds said this view was "fundamentally wrong."
"The security and well-being of my constituents must always be my first consideration," Reynolds wrote. "I therefore believe my colleague Pat McFadden was right to condemn those who would to any degree absolve ISIS for their actions following the atrocities in Paris."
Before it's here, it's on the Bloomberg Terminal.
LEARN MORE