Chipotle Sales Plunge as Troubled Chain Gets Federal Subpoena
by
Sales dropped as much as 37% in wake of foodborne illnesses

Multiple outbreaks across country batter chain's reputation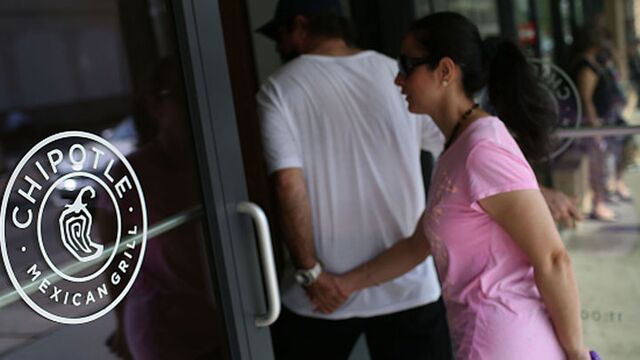 Chipotle Mexican Grill Inc., struggling to rebound from multiple outbreaks of foodborne illness, reported a bigger plunge in fourth-quarter sales than the restaurant chain expected and said it got served with a subpoena in a federal criminal investigation.
Same-store sales -- a closely watched benchmark -- tumbled 14.6 percent in the period, the Denver-based company said in a regulatory filing on Wednesday. The decline, Chipotle's first quarterly drop as a public company, was previously projected to be as much as 11 percent. The grand jury subpoena, meanwhile, stemmed from a probe into a norovirus outbreak by the U.S. Attorney's Office for the central district of California, which is working with the Food and Drug Administration's Office of Criminal Investigations.

Chipotle's reputation has been hammered in recent months by an outbreak of E. coli that afflicted at least 53 people in nine states. That was followed by a norovirus contagion at a Boston location that sickened more than 140 college students. A new spate of illnesses in three additional states was announced by the Centers for Disease Control and Prevention late last month.
The shares fell 5 percent to close at $426.67 in New York , reaching their lowest point in more than two years. The stock declined 30 percent in 2015.
In the wake of the Boston outbreak -- and the national news coverage that followed -- same-store sales fell 34 percent, the company said on Wednesday. After the CDC report on the additional E. coli cases in late December, the sales dropped 37 percent. They were down 30 percent for the full month of December, Chipotle said.
Earnings Estimate
The company now estimates that fourth-quarter earnings will range from $1.70 to $1.90 a share. Analysts predicted $2.49 before the announcement, according to data compiled by Bloomberg. Chipotle also expects to record $14 million to $16 million in expenses during the quarter because of the crisis. The company has had to replace food in restaurants, conduct lab tests and boost marketing to cope with the situation.
Chipotle also is making more share buybacks as it tries to placate investors. The board agreed to repurchase $300 million in stock, in addition to $300 million announced on Dec. 4.
California Case
The subpoena pertains to a norovirus case at a Chipotle in Simi Valley, California, in August. That outbreak sickened at least 234 customers and employees, though it didn't generate much national publicity before the E. coli incidents. 
The illnesses in California were caused by a employee who had the highly contagious virus but wasn't sent home from work. Steve Ells, Chipotle's co-chief executive officer, recently told Bloomberg News that the norovirus outbreaks in California and Boston involved breaches of protocol that were established in 2008 after the virus sickened 500 people near Kent State University in Ohio. Norovirus is the leading cause of illness from contaminated foods, affecting as many as 21 million people in the U.S. every year. Its symptoms, including diarrhea, vomiting and stomach pain, usually last a couple of days.
Chris Arnold, a spokesman for Chipotle, declined to comment on the investigation, as did the U.S. attorney's office that issued the subpoena. The FDA said it couldn't provide more details on the investigation.
"When foodborne illness outbreaks occur, the FDA works closely with other federal and state agencies and other health officials to identify the source, ensure the companies are removing affected foods from the marketplace, and communicate with the public," the agency said in a statement. "No system is foolproof, but the FDA works to prevent as many foodborne illness outbreaks as possible."
'Range of Documents'
In the filing, Chipotle said it's been asked to produce a "broad range of documents" as part of the subpoena in California. "It is not possible at this time to determine whether we will incur, or to reasonably estimate the amount of, any fines, penalties or further liabilities in connection with the investigation pursuant to which the subpoena was issued," the company said.
The grand jury probe isn't the first legal tangle for Chipotle. It's already involved in a U.S. government immigration investigation that started in 2010 and caused the company to fire hundreds of workers. In 2012, prosecutors began probing possible criminal securities-law violations and subpoenaed the company regarding work authorizations.
In the latest probe, it's difficult to determine what potential crime is being investigated, according to Bill Marler, a Seattle lawyer who has worked on food-safety cases for more than 20 years and is representing about a dozen customers who got sick after eating at the Simi Valley restaurant. He also was unsure why federal authorities have jurisdiction over a case that appears to involve a single restaurant in California. There have only been a handful of criminal investigations into these kinds of food-safety problems, and they typically involve products shipped across state lines, he said.
"I don't see what the federal jurisdiction is," he said. "It's not like they were shipping burritos to Reno."
Before it's here, it's on the Bloomberg Terminal.
LEARN MORE