Chipotle's Ells Takes $60 Million Hit After Outbreaks: Chart
by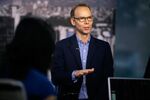 Chipotle Mexican Grill Inc. founder and Co-Chief Executive Officer Steve Ells has lost more than $60 million in the past four months after several widely publicized outbreaks of foodborne illness sent the chain's stock plunging.

Chipotle shares have plummeted 42 percent since Sept. 8, reducing the value of Ells's stake by $60.5 million, according to data compiled by Bloomberg. As of July 22, Ells, 50, held 196,802 shares, giving him about 0.6 percent ownership of the company he founded in 1993.
Chipotle's reputation has been hammered in recent months by an outbreak of E. coli that afflicted at least 53 people in nine states. That was followed by a norovirus contagion at a Boston location that sickened more than 140 college students. On Wednesday, the burrito chain said it was served a subpoena in a federal criminal investigation regarding a separate norovirus outbreak in California in August.
Before it's here, it's on the Bloomberg Terminal.
LEARN MORE