The `Hard-Landing School' Has It Wrong on China, Says Roach
by and
Top-line GDP doesn't tell the full story on the economy

Faber of Gloom, Boom & Doom Report urges caution on China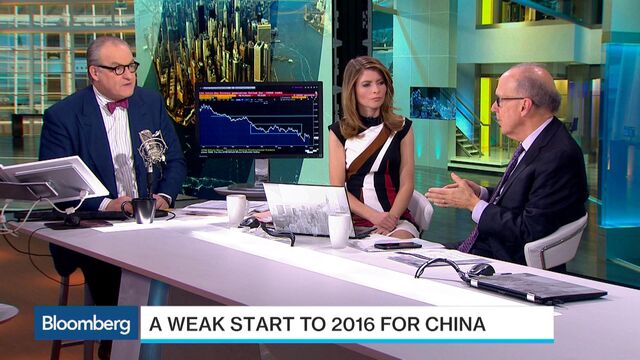 Those concerns about China that have weakened the yuan and sent stocks tumbling? Overdone, says Stephen Roach.
The Yale University senior fellow said the economy is in a transition and employment data showing strong urban job growth paint a more positive picture.
"You can't look at top-line GDP and conclude about whether China is going hard or soft," Roach told Tom Keene on Bloomberg Television. "You have to look at the pieces, the mix, and the mix is far more constructive than the China bears would lead you to believe."
The latest worries about the Asian economy follow continued weakness in manufacturing and a drop in a services gauge close to a level signaling contraction. China revived interventions in its stock market and the yuan fell to the lowest level since at least 2011 after the central bank signaled it's becoming more tolerant of a depreciating currency.
"The hard-landing school views China's growing as much worse than expected and therefore on the cusp of rising unemployment and mounting social instability, which would bring the miracle to an end," said Roach, a former chairman of Morgan Stanley Asia. "Nothing could be further from the truth."
That "hard-landing" school includes Marc Faber, the publisher of the Gloom, Boom & Doom Report. Speaking on Bloomberg earlier, he said there is a "colossal credit bubble" in China and he would "rather be overly cautious on China than overly optimistic."
"We had a hard landing in the stock market already and we had a hard landing in commodities and we might have a hard landing in the economy," he said.
Before it's here, it's on the Bloomberg Terminal.
LEARN MORE