Gadgets
Bang & Olufsen's Slick, All-in-One Audio Solution for Our Connected Age
Danish design meets streaming ease in the new BeoSound 35 speaker.
by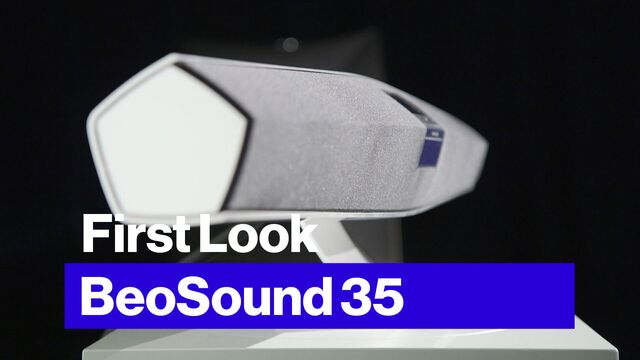 It's not a spaceship.
The BeoSound 35 is the latest all-in-one speaker from Bang & Olufsen, and it sounds every bit as good as it looks. The Danish brand has been experimenting for a few years with products that branch out from traditional home stereos to include connectivity and streaming support (such as last year's BeoSound Moment). This is the culmination of a lot of those efforts. Connect any audio source you can imagine: Bluetooth, Spotify Connect, AirPlay, Google Cast, or good, ol' fashioned, hard-wired inputs. This means you can use the BeoSound 35 for music and home theater if you want, although Bang & Olufsen emphasizes that this is not a sound bar. (Maybe it's not a typical sound bar, but it definitely can serve that purpose.)

The aluminum tube is shaped like a pentagon, which lets it rest either on a table stand or mount to the wall, with screen and touch controls angled up or down (respectively) for easy viewing. The aluminum disperses heat and gives the speakers a sturdy base. There are four drivers in total: two angled tweeters on the outside and two forward-facing woofers in the center. This means you don't have to sit right in front of the unit to get good sound balance, which is pretty important for such a speaker. Entirely made in Denmark, it feels extremely solid. There's no question that this is a serious piece of equipment.  

The sound is exactly what you'd expect from Bang & Olufsen: clear, vibrant, fantastic. It gets loud without distortion; as you walk around the unit, there are no discernible hot spots or dead spots. The tone is similar to what you'll find on other Bang & Olufsen speakers and sister brand B&O Play's headphones. It's got a little extra oomph in the bass and the highs almost shimmer, but it's by no means sloppy or overly processed. 
The BeoSound 35 is set in the premium section of the all-in-one market and will set you back $2,785. It will become available worldwide in April.
Before it's here, it's on the Bloomberg Terminal.
LEARN MORE