'Billions' Dishes a Smorgasbord of Wall Street Scandals: Review
by
Goldman Sachs to screen Showtime drama starring Paul Giamatti

Insider trading, cocaine and class war fuel new series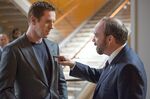 Next week, scenes of insider trading, gratuitous $83-million-dollar mansion buying and a hog-tied U.S. attorney will be screened at Goldman Sachs Group Inc. That's a sentence I never thought I would write and one that could only come about as entertainment executives look for ever more preposterous ways to dramatize the world of Wall Street.
General misbehavior sets the tone for Showtime's new series "Billions," which premieres Jan. 17. A month after the release of "The Big Short," the movie adaption of Michael Lewis's book, viewers will be treated to the television version of banksters behaving very badly.
But where "The Big Short" deals with real events of the financial crisis, "Billions" is a dramatized pastiche of virtually every scandal to have rocked Wall Street in recent years. The financial titans depicted here are larger than life. Oozing hormones and hubris, they swagger through golf courses, charity events and even U.S. attorneys' offices.
In a counterintuitive move, Showtime is making a concerted effort to court the financial industry with the series. There's a deal linked to the premiere with the Wall Street Journal. Bloomberg LP, the parent of Bloomberg News, provided product support and creative input to the program. Goldman Sachs is set to screen the pilot on Jan. 14 at its New York headquarters, followed by a discussion with the writers and co-creators Brian Koppelman and David Levien as part of the firm's regular speaker events. 
What will the bankers think? Will they dissect the depiction of the technicalities of the hedge fund world, or enjoy the show's self-described "pissing match" between its respective alpha males? How will they react to the vivid sadomasochism enjoyed by one of the show's two lead characters in the opening scene of the first episode?
That character is Chuck Rhoades, portrayed by Paul Giamatti. A U.S. attorney for the Southern District of New York, he is on the hunt for a big whale. Playing the seafaring mammal to Giamatti's Captain Ahab is Damian Lewis as Bobby "Axe" Axelrod, the hedge fund manager who has used insider trading to rise to whatever level lies beyond "Master of the Universe." Between them is the prosecutor's wife, Wendy Rhoades, who is played by Maggie Siff. She works as a psychiatrist at Axelrod's hedge fund and might as well have "conflict of interest" tattooed on her forehead.
Snorting Coke
There are cliches aplenty in the six episodes I watched, though it seems like the writers made a none-too-subtle attempt to turn most of these on their heads; Axelrod is the down-to-earth hedge funder from humble origins, while Rhoades is the one with the privileged upbringing and financial industry ties.
Cocaine is snorted in lines off a young woman's nubile flesh, but it's done by her girlfriend at a U.S. attorney's office, which is something new I guess. Dwarves aren't thrown a la "The Wolf of Wall Street," but they do make an appearance in what I can only guess is some sort of Russian steam room.
Self-conscious subversiveness aside, there are plenty of big themes that the series gets right. There's class warfare galore and the revolving door between the finance industry and its regulators is a continual presence. The fuzziness of white-collar crime and insider trading laws have long been topics of discussion and may become even hotter subject matter as new technology allows hedge fund managers to tap more proprietary information. There's a continual question of whether Axelrod and his ilk are the smart money, or simply the lucky ones with access to the best information.
Shades of Madoff
Wall Street professionals may enjoy picking out the real-life inspiration behind onscreen events, perhaps showing the influence of Andrew Ross Sorkin, author of "Too Big to Fail," and a "Billions" co-writer. Rhoades's role as a hedge fund psychiatrist recalls the doctor once employed by Steven A. Cohen, whose former firm, SAC Capital, pleaded guilty to securities fraud. There are also shades of Bernie Madoff, architect of the biggest Ponzi scheme ever, and Preet Bharara, the current U.S. attorney for the Southern District of New York.
But there's plenty wrong here too, not least of which is a hedge fund manager opting to benchmark his performance against the Standard & Poor's 500 Index. The machismo is laid on thick in this series; the metaphors are laid on even thicker. There are countless references to sports (baseball, matadors) and the military (war machines, trenches) that belie the routine banality of what is essentially a numbers-driven industry. Axelrod's face visibly falls when he's told by his wife, played by Malin Akerman, that the family's rambunctious dog has been neutered. Doctors should prescribe this series to patients seeking treatment for low testosterone.
"Billions" often shines when its female characters, whose motivations are not quite as one-dimensional as their male counterparts, are given their screen time. In an amusing bit, Axelrod's wife goes on the warpath against a female enemy, deploying the age-old pressure tactics of social shunning to turn the screws (barred from barre class, the woman was). On that note, Wendy Rhoades, caught between her work husband and her real one, sometimes steals the show.
Ultimately, "Billions" has more in common with the engrossing, power-hungry egomania of series like "House of Cards" than it does with the inner dealings of the finance industry. Hence the show's tagline: "It's not about the money."
(Tracy Alloway is executive editor for Bloomberg Markets. The opinions expressed are her own.)
Before it's here, it's on the Bloomberg Terminal.
LEARN MORE