Wall Street Isn't Feeling the Bern as Sanders Calls for Breakup
by and
Candidate's pledge to dismantle biggest banks won't be easy

`His party would restrain him when it came to actual policy'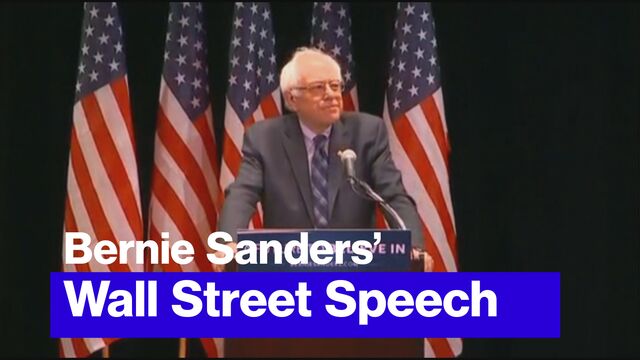 Wall Street banks are about to face another test of whether words will ever hurt them.
Bernie Sanders, the Democratic presidential candidate from Vermont, vowed during a speech Tuesday in New York to break up the largest U.S. banks within one year of taking office. Sanders lambasted the power the biggest lenders have and the "greed of Wall Street and corporate America" that he said is destroying the nation's fabric.
While spokesmen for the four biggest banks -- JPMorgan Chase & Co., Bank of America Corp., Citigroup Inc. and Wells Fargo & Co. -- declined to address Sanders's threat, analysts and historians expressed doubt that it would ever be realized, even if he defied the odds to win the White House.
"Even on the off-chance that Sanders got elected, he wouldn't be able to break up the big banks because his party would restrain him when it came to actual policy," said Charles Geisst, a finance professor at Manhattan College in New York and author of books on the history of Wall Street. "As all politicians voicing populist sentiments during election campaigns find out if they're actually handed power, any attempt at radical changes will be resisted and blocked by their own political party."

'Knee-Jerk'
Sanders's pledge to have his Treasury secretary determine which firms are too big to fail left some Democrats skeptical. James A. Torrey, a private investor and one of President Barack Obama's top fundraisers in 2012, said before Sanders spoke that he applauds the senator's attention to financial issues but finds his policy proposals unrealistic.
"Too big to fail? How do you define too big to fail, Bernie?" Torrey said about the breakup plan. "It's a bit knee-jerk."
The largest banks are bracing for more public discussion of whether they should be dismantled after capital requirements and other rules enacted in the wake of the 2008 financial crisis punished size without demanding breakups. The risk is that Sanders's remarks could spur harsher rhetoric from others. Democratic front-runner Hillary Clinton has focused much of her financial-regulation plans on non-bank firms, such as hedge funds and asset managers, that may pose systemic threats, while candidate Martin O'Malley said Monday that Sanders's ideas haven't gone far enough.
"We expect Wall Street bashing to intensify in the coming months once voters start to go to the polls," Jaret Seiberg, a Guggenheim Securities LLC analyst in Washington, wrote in a note Tuesday. "This will create political pressure to further tax the biggest financial firms as well as to break them into smaller companies or force them to hold even more capital."
Speculation Tax
A new tax was one of several ideas Sanders proposed to rein in the greed he criticized during the 48-minute speech at Town Hall. He said he would impose a tax on speculation, without providing details of what transactions it would target and at what rate. The proceeds would be used to provide free college tuition. The candidate also said he would cap interest rates on credit cards and consumer loans at 15 percent, and fees for taking money out of automated teller machines at $2.
The U.S. Postal Service would be allowed to engage in basic banking services under his presidency, so low-income Americans wouldn't have to go to payday lenders, he said. Sanders would change the bylaws of the regional Federal Reserve banks so bank executives could no longer serve on their boards. The central bank should also stop paying interest to financial institutions for the reserves they keep at the Fed and instead charge for them, he said. That would amount to negative interest rates on deposits at the Fed, a practice the European Central Bank has resorted to recently among its efforts to stoke the region's economy.
Sanders also talked about the need to prosecute senior executives when financial firms engage in wrongdoing.
"The reality is that fraud is the business model on Wall Street," he said. "It is not the exception to the rule. It is the rule. And in a very weak regulatory climate the likelihood is that Wall Street gets away with a lot more illegal behavior than we know of."
Section 121
Sanders said in a written copy of his remarks that he will use Section 121 of the Dodd-Frank Act to break up the largest banks. That allows the Fed, with assent from the Financial Stability Oversight Council, to force a bank to sell assets and shrink if the lender is deemed to pose a "grave threat" to the nation's financial stability and less severe actions are inadequate to mitigate the threat. While the president doesn't have direct control over the Fed, he or she can nominate new governors and appoint the chairman.
Sanders also said he would fight to reinstate the part of the Glass-Steagall Act that separated commercial and investment banking. That would require a vote by Congress, and even using Dodd-Frank to shrink banks could face internal resistance in Washington, said Brian Gardner, a political analyst at investment bank Keefe, Bruyette & Woods.
"The Fed would probably lean in the direction of a new administration, but the Fed is also a slow-moving bureaucracy," Gardner said in a report Tuesday. "Fed officials who oppose an across-the-board breakup of big banks could effectively use the bureaucracy to block efforts to dismantle big banks."
Getting Bigger
The largest banks grew during the financial crisis through mergers, gobbling up weaker rivals, some through government assistance and backing. By the end of 2010, the six largest U.S. banks had 30 percent more assets than they had at the end of 2006. While the growth has slowed since 2010, at the end of the third quarter of 2015, they still had 38 percent more assets than before the crisis. Three of the largest banks Sanders referred to in his remarks -- JPMorgan, Bank of America and Wells Fargo -- are 92 percent bigger today than at the end of 2006.
JPMorgan Chief Executive Officer Jamie Dimon told CNN in November he thought he could convince Sanders of the benefits of large banks. Dimon, who said he doesn't think Sanders will win, has consistently touted the advantages of scale in serving the largest global companies and the importance of big banks to the economy.
"You need them," Dimon said. "If you break them up, somebody else is going to do it and they will be Chinese, and if you think that's going to be good for the future of America, I beg to differ."
Breakup Debate
A year ago, Dimon faced a breakup debate that arose not from a political perspective but a financial one. Analysts at Goldman Sachs Group Inc. suggested that new capital rules meant that JPMorgan was worth more as separate businesses.
JPMorgan executives responded by laying out $15 billion of revenue and $3 billion of cost savings they said would disappear if the bank were split. The firm also has made changes to reduce its required capital under the new rules.
Other bank leaders have also tried to get ahead of the political push for drastic change. Citigroup CEO Michael Corbat traveled to the nation's capital in October to meet with members of Congress and make a speech to the Economic Club of Washington, D.C., arguing for the value of large banks.
"In particular in this environment, bankers are easy to pick on," he said. "It's one of the few things here in Washington, as I described, that's publicly bipartisan."
Before it's here, it's on the Bloomberg Terminal.
LEARN MORE