Volkswagen's U.S. Sales Slump in December Amid Emission Scandal
by and
VW brand's decline offset gains in Audi, Porsche deliveries

Last month's drop was narrower than analyst estimate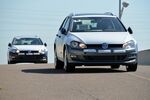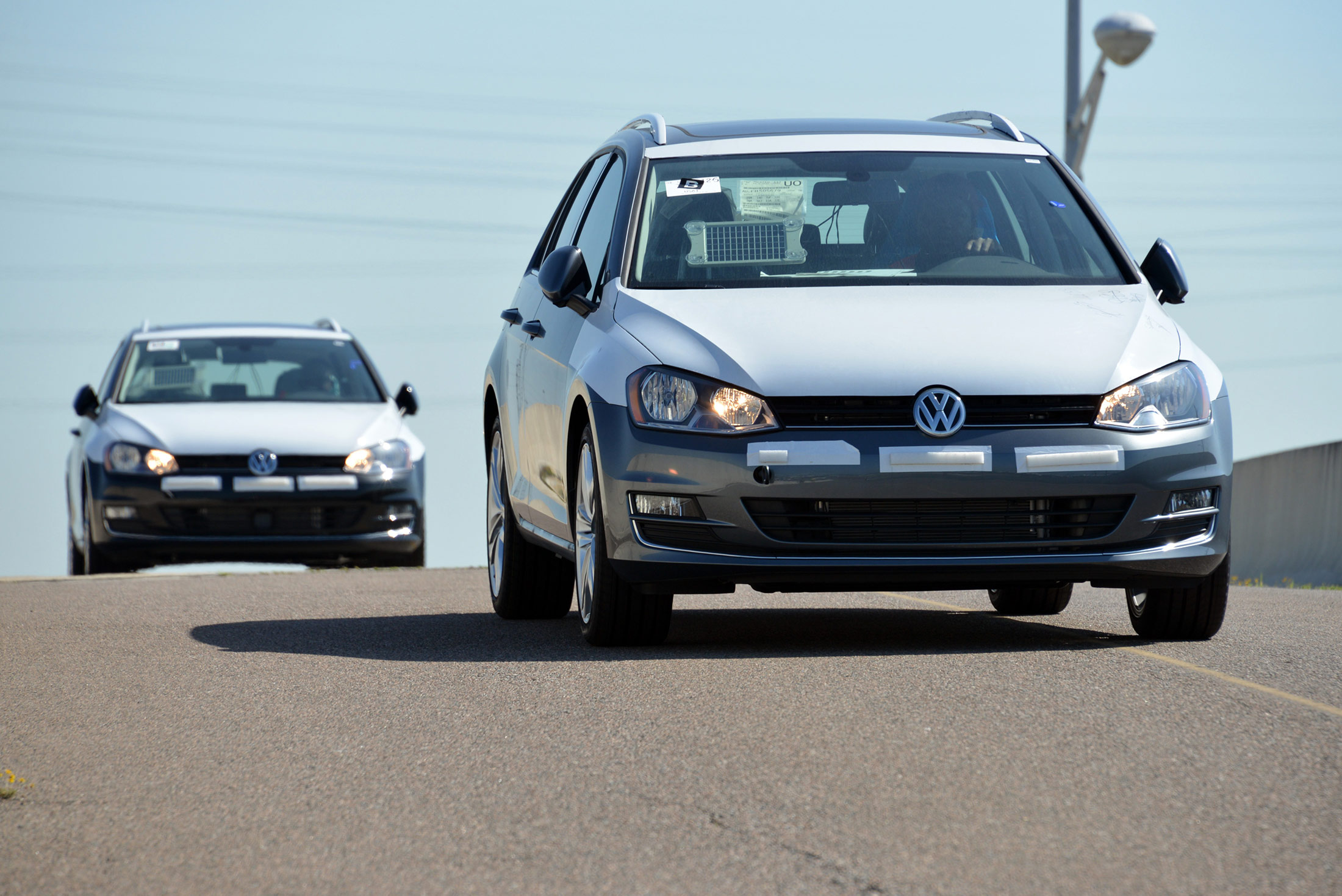 Volkswagen AG managed to temper a December sales slump in the U.S. as it grapples with its diesel-emissions scandal.
Just one day after the U.S. Justice Department sued the company for cheating on federal standards, the German automaker reported a 9.1 percent decline in deliveries of its namesake brand to 30,956 vehicles from 34,058 a year earlier. The result was less than November's 26 percent plunge and the 20 percent drop predicted by TrueCar Inc., an auto-pricing research company.
Dealers are slashing prices and offering cash incentives to move models off their lots, according to Jessica Caldwell, an analyst with automotive-pricing website Edmunds.com.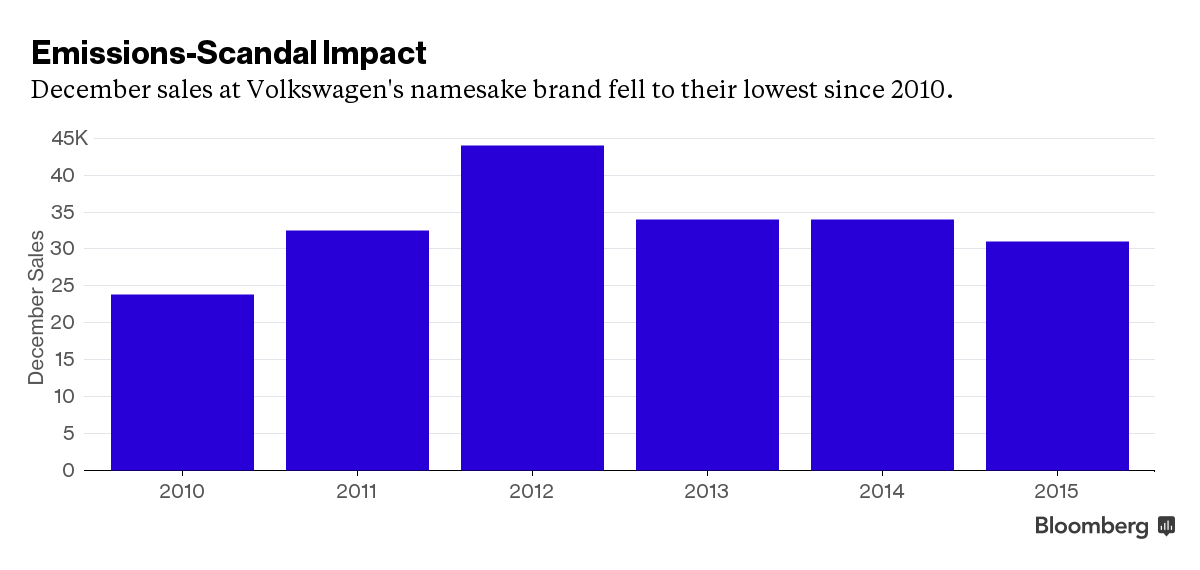 "The cars that they can sell are actually selling quite fast," she said in a telephone interview. The company stopped deliveries of diesel-powered vehicles after the Environmental Protection Agency revealed in September it admitted to installing illegal devices meant to defeat emissions tests.
"A lot of it is this deal mentality: Now must be the best time in history to get a Volkswagen," Caldwell said. The company also "does a lot of lease and finance, so I think that's where that's coming from."
Volkswagen spent about 31 percent more on incentives in December than a year ago, Joseph Spak, an analyst at RBC Capital Markets, said in a note Tuesday. This compares with about a 3.9 percent increase industrywide. VW representatives didn't respond to multiple requests for comment.
Alan Brown, who co-owns two VW dealerships in the Dallas area and is chairman of the brand's U.S. dealer council, said he didn't have to offer any extra incentives to get people into gasoline-powered models such as the Tiguan and Passat. Instead, he said December's numbers were the result of the company's effort to make these vehicles more competitive.
"Volkswagen has worked very, very hard on content and price, and we're starting to see the benefits of that," Brown said in a telephone interview.
Billions in Fines
The Justice Department's complaint, the first case it has brought against the company, could result in billions of dollars in fines; it also is investigating the carmaker for possible criminal conduct. The EPA said talks on how to deal with affected vehicles haven't produced an acceptable path forward. The company said in an e-mailed statement on Monday it is continuing to work with the agency.
"As we look towards 2016, we are committed to rebuilding trust in the brand and would like to thank our customers and dealers for their continued patience and loyalty," Mark McNabb, chief operating officer at Volkswagen of America, said in a separate statement announcing the December sales results on Tuesday.
Volkswagen's American depository receipts declined 5.8 percent to $28.34 at the close of trading in New York Tuesday after falling as much as 7.7 percent for the steepest intraday drop since September.
Chief Executive Officer Matthias Mueller and Herbert Diess, head of the VW brand, are visiting the U.S. for the first time since the scandal broke. Diess will work to repair the brand's tarnished image with appearances at the CES consumer electronics show in Las Vegas this week and at the North American International Auto Show in Detroit starting Sunday. Mueller is set to meet politicians and possibly other officials next week, though his schedule hasn't been published.
'Clear Signal'
"It's a clear signal that the U.S. is not happy," said Ingo Speich, a fund manager at Union Investment. "It's a new step that they now have civil litigation in U.S. It could have been avoided with more openness."
The situation contrasts with the progress Volkswagen has made in Europe in addressing the scandal. The company won German regulators' approval last month for low-cost fixes for 8.5 million engines equipped with emissions-manipulating software, the majority of the 11 million sold worldwide. Repairs are set to start this month.
Still, the most important question for the company is how soon it can announce a solution in the U.S., Arndt Ellinghorst, a London-based analyst for Evercore ISI, wrote in a note. Ellinghorst, who has a buy recommendation on the stock, argued that Volkswagen should mollify both dealers and customers by buying back affected vehicles.
Offsetting Gains
The decline last month in VW-brand U.S. sales offset gains by other brands in the automaker's portfolio. Audi posted its best December yet with a 6 percent increase to 20,399, while Porsche's 20 percent increase pushed its annual sales over 50,000 for the first time ever. 
Total U.S. light-vehicle sales were up 9 percent in December as the biggest U.S. and Japanese automakers all reported increases. Full-year sales rose 5.7 percent to a record 17.5 million.
Several gasoline-powered VWs did well last month. Deliveries of the Tiguan sport utility vehicle more than doubled to 4,900 units, marking the best month ever for the SUV. Golf models rose 30 percent to 5,715 units.
Brown, whose dealerships exceeded their VW sales goals last month, attributed some of the Tiguan's success to dealers getting more gasoline-engine inventory.
"I am pounding Germany for more Tiguans," he said. "They are making every effort possible to reconfigure, reconnect with suppliers," and "it does take a little while to turn that around."
Before it's here, it's on the Bloomberg Terminal.
LEARN MORE