Valeant to Name New CEO as Pearson Hospitalized, WSJ Says
by
Schiller, Rosiello may be candidates, newspaper says

Pearson remains on medical leave for severe pneumonia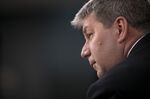 Valeant Pharmaceuticals International Inc. will name a new chief executive officer to lead the company while Michael Pearson remains hospitalized after contracting severe pneumonia, the Wall Street Journal reported Tuesday.
It's not clear if the appointment to replace Pearson is permanent, the newspaper said. Former Chief Financial Officer Howard Schiller and his replacement, Robert Rosiello, could be candidates, the Journal said, citing people familiar with the matter. An outside spokeswoman for Valeant didn't immediately respond to a request for comment.
Valeant shares dropped 4.8 percent to $96 in late trading after the Journal report. Through Tuesday's close, they had fallen 12 percent since Pearson's hospitalization was disclosed on Christmas Day.
Valeant declined to comment to Bloomberg News through its press agency.
The drugmaker announced that Pearson was taking a medical leave of absence starting on Dec. 28, and that the company would be run by a team of three executives, including General Counsel Robert Chai-Onn, Executive Vice President Ari Kellen and CFO Rosiello. Valeant board members Schiller, Robert Ingram and Mason Morfit were tapped to oversee the executives.
Lung Infection
Pneumonia is an infection of the lungs caused by bacteria, a virus or fungi, with symptoms including cough, fever and difficulty breathing. With treatment, most patients improve within 1 to 3 weeks, according to the American Lung Association. About 53,000 people in the U.S. died of it in 2013, said the Centers for Disease Control and Prevention.
Pearson's illness has threatened to hamper the company's recent efforts to win back investors' trust. Earlier this month, the 56-year-old executive urged investors to look past concerns that have sent the stock of the Laval, Quebec-based company down more than 50 percent from its August peak and said they should focus on products that will grow beyond expectations.
Pearson has promised shareholders to provide more transparent data about Valeant's business, including sales figures for its top 30 drugs. The company's strategy has drawn scrutiny from lawmakers and investors for its use of mail-order pharmacies, price increases and acquisitions for growth.
To rebuild, Pearson last year reached a deal in December Walgreens Boots Alliance Inc. to sell Valeant drugs in the drugstore chain's pharmacies, replacing an arrangement with a controversial mail-order pharmacy called Philidor Rx Services.
Before it's here, it's on the Bloomberg Terminal.
LEARN MORE