Sanders Counters Clinton With Bank Haymaker: Tale of the Tape
by and
Senator sticks to his guns in calling for break up of lenders

Clinton campaign says proposals won't prevent the next crisis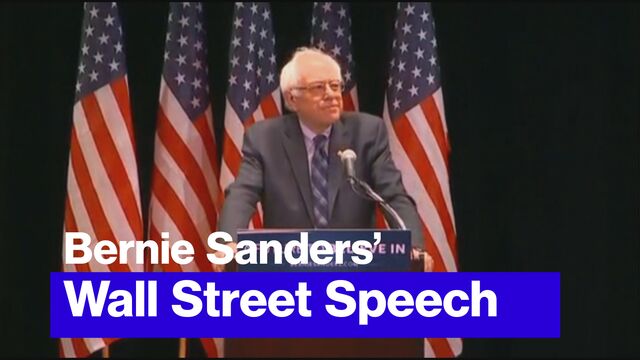 In reiterating Tuesday that dismantling big banks would be his key policy goal for the financial industry, U.S. presidential hopeful Bernie Sanders neither surprised nor brought an end to the bickering between him and Democratic front-runner Hillary Clinton over who has a better plan for addressing the dangers posed by Wall Street.
Sanders promised that his White House would quickly build a hit list of too-big-to-fail financial firms and, within a year, "break these institutions up so that they no longer pose a grave threat to the economy." His blunt-instrument proposal takes a harder line than Clinton and prompted her campaign to accuse the U.S. senator from Vermont of aiming in the wrong direction even before he could deliver his speech.
While Sanders' campaign is considered a long shot, his anti-banking rhetoric offers enough of a challenge to Clinton's more moderate and technical plan that her campaign's chief financial guru, former regulator Gary Gensler, came out punching. He said Sanders' focus on giant lenders ignores the riskiest institutions that Clinton's campaign prefers to talk about -- high-frequency traders and so-called shadow banks such as hedge funds.
For his part, Sanders went after Clinton's ideas, too, saying all she wants to do is impose a few more fees and regulations, which he said "would only invite more dilution and finagle."
So, how do their approaches compare? Here's an overview:
How to Deal With Big Banks
Sanders couldn't be clearer on this topic. Banks the size of JPMorgan Chase & Co. and Citigroup Inc. have no place in the financial system. Sanders, who calls himself a democratic socialist, blames Wall Street for the 2008 financial crisis, for taking taxpayer money and for dodging criminal penalties.
Clinton has tried to position herself as the more sophisticated candidate on financial matters by arguing that shadow banking -- often citing the failings of American International Group Inc. and Lehman Brothers Holdings Inc. -- needs to be dealt with more urgently than Wall Street banks. With lenders now facing a slew of new rules under the 2010 Dodd-Frank Act, she says less regulated firms are more likely to cause the next meltdown.
Sanders said his list of firms that should be demolished would include the biggest shadow banks and insurers. He said shadow banks "did gamble recklessly" in the crisis, but he said Clinton is wrong to give the banks a pass on their culpability.
Besides breaking up the biggest firms, Sanders would reinstate legal separations between deposit-taking commercial banks backed by government insurance and investment banks that are engaged in securities trading. Clinton, whose husband removed those barriers when he was president, doesn't advocate bringing them back.
Though both candidates gave rhetorical nods to the fact that Dodd-Frank already gave regulators the power to dismantle banks in certain circumstances, they agree that the authority didn't go far enough.
The Rhetoric
Sanders's rhetoric has been far more fiery than Clinton's, and he didn't disappoint on Tuesday.
"The reality is that fraud is the business model on Wall Street," Sanders said. "It is not the exception to the rule. It is the rule." He vowed that "Goldman Sachs and other Wall Street banks will not be represented in my administration," a barely veiled reference to Gensler's status as a former Goldman Sachs Group Inc. partner before he joined the government.
Clinton has said law breakers in the financial sector should be held accountable and too often have been able to avoid "sufficient penalty." But she doesn't characterize the industry as generally dishonest.
Thanks in part to Gensler, the former chief of the Commodity Futures Trading Commission, Clinton's own financial overhaul plans are far more detailed than those from Sanders or the Republican candidates. While Sanders's railing against Wall Street misdeeds revs up crowds, her plan digs into the minutiae of topics like "public disclosure requirements for repurchase agreements."
Consumer Issues
While Clinton's financial-sector proposals focus more on shadow-banking activities, Sanders stayed true to his populist-focused campaign by emphasizing consumer issues.
He proposed a 15 percent limit on on credit-card interest rates and consumer loans. Fees on ATM cash withdrawals should be capped at $2 per transaction, he said.
Sanders also said he would push to let the U.S. Postal Service offer "basic banking services" to offer the poor an alternative to payday lenders who are "ripping off millions of Americans" by charging interest rates of more than 300 percent.
With Sanders a big underdog to Clinton, the big question about his proposals is whether they could force Clinton to adjust hers. To casual listeners, the Clinton and Sanders ideas for combating megabanks may sound pretty similar. They both say they'll be tough on Wall Street and protect taxpayers from risky behavior there. But Clinton, who has close ties to many financial companies as a former U.S. senator from New York, hasn't yet said anything to send bankers into a panic. 
Clinton had a 16-point lead according to a CNN/ORC poll released Dec. 23. In the early voting states, she has a 12-point advantage in Iowa while trailing in New Hampshire, which borders Sanders's home state of Vermont.
Before it's here, it's on the Bloomberg Terminal.
LEARN MORE