Robert H.B. Baldwin, Who Led Morgan Stanley's Growth, Dies at 95
Laurence Arnold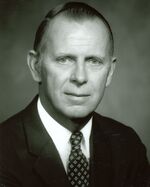 Robert H.B. Baldwin, who guided Morgan Stanley through a period of rapid growth and expansion into trading, money management and mergers and acquisitions, has died. He was 95.
He died Jan. 3 at Stonebridge at Montgomery, a nursing facility in Skillman, New Jersey, his son, Robert Baldwin Jr., said today in a telephone interview. The cause was pneumonia.
Baldwin led Morgan Stanley from 1973 to 1983, first as president and then as chairman. He "is credited with bringing Morgan Stanley into the modern era," the bank says in its online history, by seeing that sales and trading would "be the key to the firm's future growth."
By 1977, Morgan Stanley "would capture 6 percent of all U.S. securities trading," according to a book compiled by the firm to mark its 75th anniversary in 2010.
Also during Baldwin's tenure, Morgan Stanley expanded into research, asset management, fixed income and international markets. Its staff grew 10-fold, to 2,600, and its capital rose to more than $300 million, the New York Times reported in December 1983 as he prepared to retire as chairman.
That progress didn't come without strain.
"Baldwin was a man who sharply polarized opinion and was later seen as either the savior or the ruination of the firm," Ron Chernow wrote in his 1990 book, "The House of Morgan: An American Banking Dynasty and the Rise of Modern Finance."
Baldwin realized that Morgan Stanley, which was still "a place of proper gentlemen," was also poorly managed and was outgrowing its old-fashioned bookkeeping and lack of budgeting, Chernow wrote.
Navy Post
Baldwin was made a partner in 1958 but left in 1965, frustrated by his slow advancement, to be undersecretary of the Navy under President Lyndon Johnson. A former Navy training center that was turned into a residential community near Orlando, Florida, was named for Baldwin.
He returned to the firm in 1967 and eventually worked his way into power, helped by six young partners admitted in 1970 who became known as "the irreverent group of six," according to Chernow. The six included Richard Fisher, who would become president and chairman of Morgan Stanley, and Robert Greenhill, who would rise to vice chairman and president.
Robert Hayes Burns Baldwin was born July 9, 1920, in East Orange, New Jersey, to John Frank Baldwin and the former Anna Burns. He graduated in 1938 from Phillips Exeter Academy in Exeter, New Hampshire, and went on to Princeton University, in New Jersey, where he received a bachelor's degree in economics in 1942, according to Marquis Who's Who.
He was a lieutenant in the U.S. Naval Reserve during World War II, then joined Morgan Stanley in 1946.
His first marriage, to Geraldine Williams Baldwin, ended in divorce. In 1981, he married Dorothy Tobin Baldwin, who survives him. Additional survivors include his children: Janet K. Baldwin, Deborah Baldwin Fall, Robert H.B. Baldwin Jr., Whitney H. Baldwin, Elizabeth Baldwin Maushardt, and two step-children, Mary Ayres Hack and W. Dillaway Ayres.
Robert Baldwin Jr. is vice chairman of Heartland Payment Systems Inc., located in Princeton, New Jersey.
Before it's here, it's on the Bloomberg Terminal.
LEARN MORE