markets
Riksbank Sends Out Currency War Invitation, `Holy Grail' Style
By and
Says bank sent out invitation with GDP growth at around 4%

SEB says hedge funds may be gearing up to test Riksbank
The biggest bank in Scandinavia says Swedish policy makers are at risk of descending into a battle with markets that may start to resemble a comedy.
In a piece comparing the Riksbank to Monty Python's Black Knight, a character in the Holy Grail, Nordea Bank suggests that trying to stop disinflation with increasingly extreme versions of monetary stimulus is a lost cause.
The central bank said last week it's ready to reach directly into currency markets to weaken the krona and help reach its 2 percent inflation goal. The bank has already resorted to negative rates and pushed through multiple rounds of quantitative easing.
In an elaborate analogy, Nordea's head of strategy, Mikael Sarwe, likens commodity disinflation to King Arthur and Riksbank Governor Stefan Ingves to the Knight defending a bridge Arthur wants to cross. As most Holy Grail fans will remember, Arthur cuts off several of the Knight's limbs in the fight that follows. But the Knight never acknowledges defeat.
"Of course the Monty Python sketch continues with Arthur cutting off also the knight's last leg (covered bond QE?)," Sarwe said in a note. "The Black Knight's reply? 'Okay we'll call it a draw.' Let's hope the Riksbank also is getting closer to call the battle with global inflation trends a draw, although we're obviously not there yet."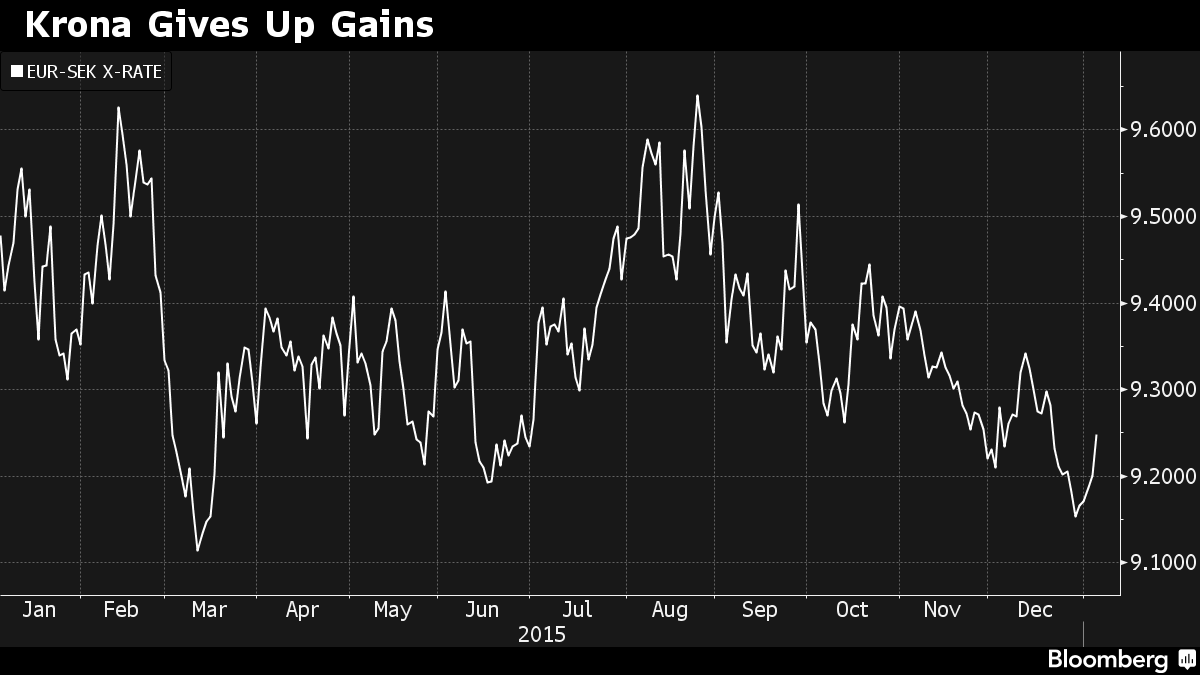 Though the Riksbank could hypothetically print as many kronor as it wants to weaken the currency, hedge funds may be up for the challenge. According to SEB AB, another of Sweden's primary dealers, there are rumors that many offshore hedge funds are betting on krona gains and would see an intervention-induced dip as a "good buying opportunity."
The central bank has shown it isn't prepared to tolerate a krona exchange rate that's much stronger than 9.10-9.15, according to Anna Breman, chief economist at Swedbank. But intervening in currency markets may prove "politically controversial" and hedge funds could decide to test the Riksbank's resolve, she said.
Sweden's primary dealers and currency traders now say the bank is very close to intervening in the currency market for the first time since 2001. The krona's strength, boosted by accelerating economic growth, is threatening to derail the bank's struggle to revive inflation, which has hovered below zero for much of the past three years.
"The Riksbank sure has sent an invitation by threatening to intervene in the FX market when GDP growth is around 4 percent and the krona according to "everyone" already clearly is undervalued," Sarwe said.
A trigger level could be anywhere from 9.00 per euro to 9.15 per euro, most banks estimate.
The Riksbank, in an unprecedented note on Dec. 30, warned it was moving closer to intervening after the krona appreciated last month. Then on Monday, it sent out a statement that it had delegated the authority to Ingves and his first deputy to "instantly" intervene in the market if necessary.
That decision was backed by all but one on the bank's six member board. Deputy Governor Martin Floden said he would rather wait and "did not consider currency interventions to be a suitable tool to make monetary policy more expansionary in the current situation."
Sarwe says it may be lost cause that would merely serve to escalate a global currency war.
"Trying to fight global disinflation and global wage trends should be a losing game," he said. "But forcing the krona to weaken steals inflation/growth from others and could temporarily work. However, in a "moral" sense, if the Riksbank does FX intervention, why shouldn't then all other central banks (ECB etc) do the same?"
Before it's here, it's on the Bloomberg Terminal.
LEARN MORE