Rajoy Floats Three-Way Coalition to Protect Spanish Recovery
by and
Rajoy says administration backed by 200 deputies is possible

Spanish leader seeks ways out of stalemate caused by elections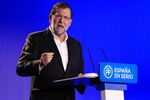 Spain's acting prime minister, Mariano Rajoy, called for a three-way coalition including the main opposition Socialists to provide the stability he says is needed to safeguard the economic recovery.
An administration backed by more than 200 lawmakers in Spain's 350-seat parliament is a "possible government" that would allow reforms to continue and "send a good message about the stability of the country," Rajoy said in an interview Tuesday with COPE radio. Seizing on Labor Ministry figures showing the number of unemployed fell by more than 354,000 last year, Rajoy said it was paramount for Spain to maintain stability.
Spanish leaders are looking for ways out of a political stalemate caused by inconclusive elections last month that left Rajoy's People's Party with the most seats but short of a majority. Rajoy is pressing the Socialists, who placed second ahead of the anti-austerity party Podemos, to put aside rivalries and join him in an alliance to shield the economy and ensure Spain's national integrity in the face of Catalan demands for independence.
"Rajoy is piling the pressure on the Socialists, who are already in a tough spot, by pushing for negotiations to form a government," Vincenzo Scarpetta, a London-based policy analyst at Open Europe, said in a phone interview. "If that fails, Rajoy could argue the Socialists are responsible for having to call new elections."
Reacting to his comments, Socialist party speaker Antonio Hernando said Rajoy should "stop dreaming" about forming a three-way alliance, adding that his party wouldn't enter a "grand or little" coalition with its historic rival.
In his radio interview, Rajoy didn't explicitly name the third party to join his would-be alliance. However, the numbers would stack up with the involvement of the pro-market Ciudadanos party which took 40 seats to the PP's 123 and the Socialists' 90. Rajoy has ruled out allying with Podemos, which returned 69 lawmakers at its first attempt, because it favors a referendum on whether Catalonia should separate from Spain.
Asked about what conditions his party would put up, Rajoy said he would have "no red lines" in negotiations with other political forces to push for the reforms that Spain needs. He said his priority was to try to form a government that he would seek to lead.
"These three political forces that would add up to more than 200 seats are united by fundamental issues," said Rajoy, citing national sovereignty, defense, equality and the need to create jobs.
Before it's here, it's on the Bloomberg Terminal.
LEARN MORE