business
Crude Oil Tumbles Below $34 a Barrel as U.S. Supply Glut Expands
By
Gasoline inventories rose 10.6 million barrels last week: EIA

Brent oil slips to 11-year low, WTI drops to lowest in 7 years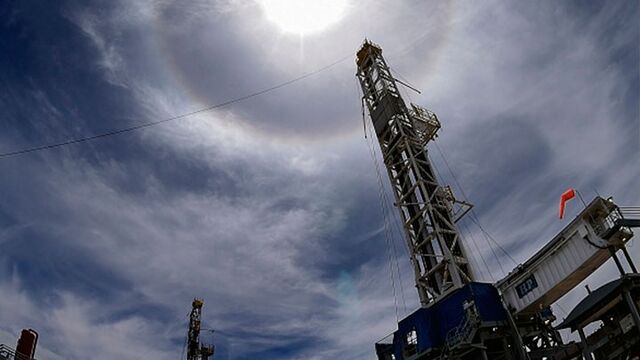 Oil dropped below $34 a barrel in New York after U.S. gasoline inventories surged the most in 22 years and crude supplies at the American hub climbed to a record.
Brent oil fell to an 11-year low in London as West Texas Intermediate tumbled to a seven-year low in New York. Gasoline stockpiles rose 10.6 million barrels last week, the most since May 1993, government data show. Crude inventories in Cushing, Oklahoma, the delivery point for WTI, advanced to an all-time high, while nationwide supplies slid. Adding pressure to oil was China's central bank devaluation of the yuan, a reminder of the August cut that sparked financial-market turmoil. 
Oil prices have shrugged off rising tension between Iran and Saudi Arabia as supplies continue to outstrip demand. The market also ignored a "cry for help" from Libya's National Oil Corp. as Islamic State militants attacked crude storage tanks in the region of Es Sider, the country's biggest oil port. Analysts from Citigroup Inc. to UBS Group AG predict crude may fall to $30 in the coming months.
"The spectacular build in gasoline supplies is just going to crush the market," said John Kilduff, a partner at Again Capital LLC, a New York-based hedge fund that focuses on energy. "The gasoline build colors everything. Even with the inventory decline we have a surfeit of crude."

West Texas Intermediate for February delivery declined $2, or 5.6 percent, to $33.97 a barrel on the New York Mercantile Exchange. It was the lowest close since December 2008. Total volume traded was 22 percent higher than the 100-day average at 3 p.m.
Brent for February settlement fell $2.19, or 6 percent, to $34.23 a barrel on the London-based ICE Futures Europe exchange. It was the lowest close since June 2004. The European benchmark crude closed at a 26-cent premium to New York futures.
Energy companies led declines on the Standard & Poor's 500 Index. The S&P 500 Oil & Gas Exploration and Production Index tumbled 6.5 percent, the biggest decline since November 2014. Southwestern Energy Co., an oil and natural gas producer, dropped 17 percent, making it the worst performer on the S&P 500.

Gasoline stockpiles climbed to 232 million barrels in the week ended Jan. 1, the highest since March, according to the Energy Information Administration. Supplies of distillate fuel, the category that includes diesel and heating oil, climbed 6.3 million barrels to 159.4 million, the most since February 2011.
February gasoline futures dropped 9.49 cents, or 7.6 percent, to $1.1618 a gallon, the lowest close since February 2009. Diesel for February delivery fell 4.46 cents, or 4 percent, to settle at $1.0807.
'Staggering Builds'
"Any support from the crude supply drop was far offset by the staggering builds in gasoline and distillate," said Matt Sallee, who helps manage $13.5 billion in oil-related assets at Tortoise Capital Advisors in Leawood, Kansas. "Prices would normally surge if you had ISIS attacks on oil facilities in Libya, a serious escalation in tensions between Saudi Arabia and Iran, and limited spare capacity. There's more attention being paid to China devaluing the yuan."
Stockpiles at Cushing, which is also the biggest U.S. oil storage hub, rose 917,000 barrels last week. The site has a working capacity of 73 million barrels, according to the EIA. Nationwide, inventories fell 5.09 million barrels to 482.3 million last week, the Energy Information Administration said.
Crude output rose by 17,000 barrels a day to 9.22 million, the highest since August. That's down from a four-decade high of 9.61 million reached in June, weekly data show. The gain occurred as U.S. producers cut the number of rigs drilling for oil to 536, near the fewest in five years, according to data compiled by Baker Hughes Inc.
"I'm shocked that production has held up as well as it has given that the rig count has dropped to a little over 500," Sallee said. "I still believe we'll see production fall by about 500,000 barrels this year. It might be backloaded though."
Before it's here, it's on the Bloomberg Terminal.
LEARN MORE