Next's Weak Holiday Sales Open Prospect of Buyback Resumption
by
Shares trade below price that Next would start repurchasing

U.K. retailer hasn't bought back shares since October 2014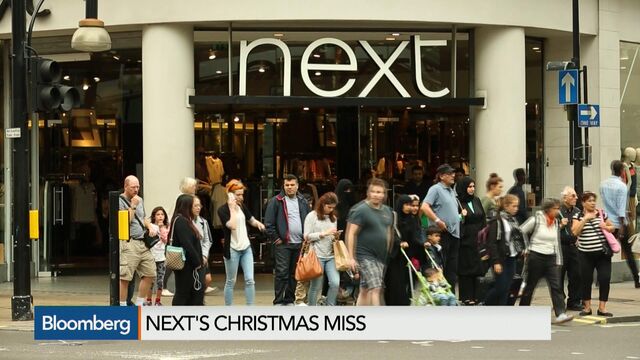 For more than a year, Next Plc has abstained from buying back its own stock because the share price was too high. Disappointing Christmas sales should change that.
Next shares fell 5.2 percent to 6,820 pence at 9:05 a.m. in London, trading near a one-year low and below the level of 6,962 pence at which the U.K. retailer has said it's prepared to repurchase stock.

"Next will no doubt be in the market today supporting the price after the inevitable early markdown," Nick Bubb, an independent retail analyst, said in a note.
Up until now, the strength of the shares has meant the retailer has had to find other ways of returning excess cash to investors, such as special dividends. It last bought back stock in October 2014.
Next declared a special dividend of 60 pence a share on Tuesday, representing about a quarter of the cash it forecasts it will generate in the financial year ending January 2017.
Before it's here, it's on the Bloomberg Terminal.
LEARN MORE