Next Holiday Sales Send Distress Signal Across U.K. Retail
by
Slowdown at online unit compounds impact of mild weather

Retailer's shares fall the most in almost 10 months on miss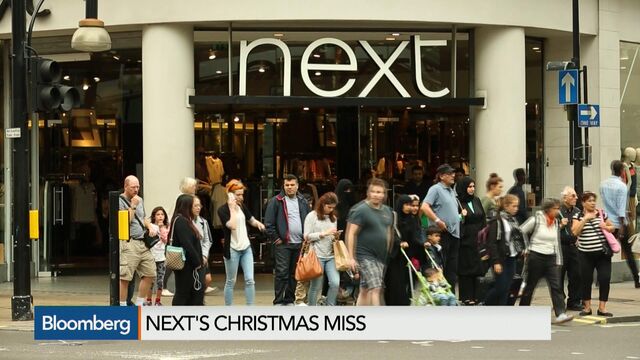 In U.K. retail, even the best struggled at Christmas.
Next Plc, admired by investors for a record of consistent earnings growth, missed analysts' estimates of holiday sales by a wide margin. As expected, mild November weather was to blame, though Next also pointed to increasing online competition for its long-established Directory e-commerce unit.
"The worry is Next Directory because that's where the big miss has been," said Tony Shiret, an analyst at Haitong Securities. Sales at the unit rose 2 percent through Dec. 24, compared with the median estimate for 10 percent growth. The shares fell the most in almost 10 months.

Next's update adds to concern that sales faltered across the industry at the most important time of the year. Marks & Spencer Group Plc is expected to report a slide in general-merchandise sales when it discloses figures later this week. Next stuck to its mantra of not discounting before Christmas, allowing it to at least maintain its profit forecast for the year, albeit at the low end of its expected range.
The shares slumped as much as 5.2 percent to 6,820 pence in London, the steepest intraday drop since March 19, and were down 4.9 percent at 9:05 a.m. Marks & Spencer fell 1.4 percent, while department-store chain Debenhams Plc slid 1.6 percent.
The mild weather in the final quarter of the year wreaked havoc for clothing retailers across Europe. U.K. temperatures were well above average for all but one week from the start of November, giving shoppers little reason to seek out new coats and sweaters. Retailers in the U.S. have also grappled with the same problem.
Bigger Concern
While the impact of the weather was already largely known, Next's comments on Directory surprised analysts and provide a bigger concern. The retailer admitted it lost online sales because of a failure to accurately forecast demand for new lines it released periodically through the Christmas period. This mistake was compounded by the improving next-day delivery services offered by online rivals such as Asos Plc.
"A few years ago we were the only people delivering next day if you ordered up to 10 o'clock at night but now most people do that," Chief Executive Officer Simon Wolfson said in a phone interview. "There isn't a big opportunity to differentiate our delivery service going forward."
Next said full-priced sales advanced 0.4 percent in the two months ended Dec. 24, below analysts' estimates of 5.8 percent growth. Pretax profit will be about 817 million pounds ($1.2 billion) for the financial year ending this month, towards the bottom of its previous forecast range of 810 million to 845 million pounds.
In the coming financial year, Next expects full-price sales and profit growth of between 1 percent and 6 percent. Analysts had estimated earnings growth of about 5.9 percent. Shiret, the Haitong analyst, said the guidance was "downbeat" and "a material reduction of expectation."
Before it's here, it's on the Bloomberg Terminal.
LEARN MORE