Iran Mob That Firebombed Embassy Harms Rouhani Before Poll
by and
Standoff with Riyadh plays into hands of Iranian hardliners

President wants big election turnout to cement his rule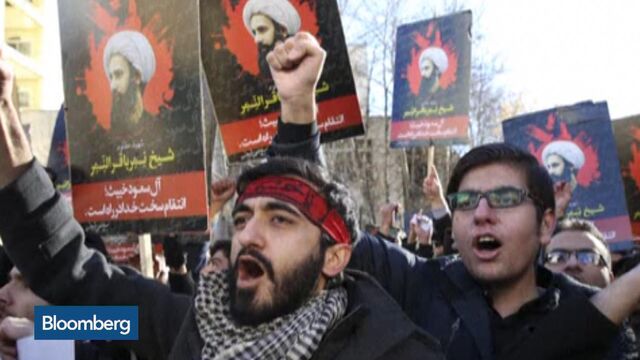 The selfie-snapping mob that hurled Molotov cocktails at the Saudi Embassy in Tehran was directing its rage at the kingdom's ruling royals. Yet the biggest casualty may be the protesters' own president.
The Jan. 2 assault on the diplomatic mission sparked by Saudi Arabia's execution of a Shiite cleric was a gift for Iranian hardliners who accuse Hassan Rouhani of endangering the revolution with his embrace of traditional foes. A deepening sectarian standoff with Iran's chief rival could dent support for the president weeks before he hopes to cement his authority at elections for parliament and a key assembly.

"If you can attack an embassy with impunity, the message is that hardliners control the streets and Rouhani is too weak to confront them," said Mohammad Javad Akbarain, a political analyst focusing on Iran based in Paris. "The subtle message is that if elected officials cannot deliver, then why bother voting. The hardliners hope for a low turnout."
Since taking office in August 2013, Rouhani has focused on foreign policy, clinching a nuclear accord with world powers to end Iran's economic and political isolation and signaling to regional opponents including Saudi Arabia that he wants warmer relations. He now needs stability to lure investment and improve living standards for Iranians who have struggled through almost a decade of sanctions.
Speaking on Wednesday, the president said "obstacles" created by Saudi Arabia won't impede Iran's plans and goals. "The nuclear deal will soon be implemented and sanctions will be lifted," Rouhani told his cabinet.
Ties Snapped
The execution of Saudi cleric Nimr al-Nimr, a critic of the kingdom's treatment of its Shiite minority, has unraveled ties and threatens to prolong and fuel regional conflicts from Yemen to Syria where Iran and Saudi Arabia vie for supremacy. Saudi Arabia broke off diplomatic relations after the storming of the embassy, a move followed by some of its regional allies.

Rouhani has denounced both the execution and the violence in Tehran as he seeks to limit damage to both his foreign policy agenda and his electoral chances.
"We do not allow rogue groups to commit illegal actions and damage the holy reputation of the Islamic Republic of Iran," he said in a statement. In a letter to United Nations Secretary-General Ban Ki-moon, Iran's ambassador to the world body Gholam-Ali Khoshroo expressed "regrets" over the violence and said Iran would take steps to prevent such incidents in the future.
Few Fears
Rouhani "either has to go along with what happened and take a tough public line or he has to get back to that more moderate track," said Scott Lucas, an Iran analyst and professor of international politics at Birmingham University in the U.K. "This is going to filter back into the battle for the parliamentary and assembly elections.
The crowd that attacked the Saudi mission appeared to have little fear of arrest while security forces appeared to do little to protect the embassy, said Akbarain, suggesting the demonstrators had been encouraged by other "power centers." Protesters posted pictures of themselves holding equipment stolen from the Saudi embassy on social media.

Iran's Revolutionary Guards, the judiciary and parliament are all dominated by officials aligned with conservative or ultraconservative ideology.
Adds Fuel
The assault on the embassy could have been planned by hardline groups within the establishment and adds "fuel to the fire" of internal conflict, said Mahjoob Zweiri, a professor of Middle Eastern politics who studies Iran at Qatar University in Doha. They intended to "send a message to Riyadh but the way it was sent also took on Rouhani."
The infighting was visible in Iranian newspapers, with reformist publications, including Aftab and Shargh newspapers, blaming hardliners for orchestrating a crisis to derail Rouhani ahead of elections for the legislature and the assembly that will one day pick the successor to Supreme Leader Ayatollah Ali Khamenei.
"This standoff will give credence to hardliners who argued Rouhani was naive to extend a hand to Saudi Arabia, making future engagements more difficult," said Ali Vaez, senior Iran analyst at the International Crisis Group based in Istanbul. "The infighting will get worse before it gets even worse because the stakes are extremely high."
Before it's here, it's on the Bloomberg Terminal.
LEARN MORE