India Supreme Court Keeps Ban on Larger Diesel-Engine Vehicles
by and
Ruling on 2-liter diesel engine threshold benefits BMW, Audi

Supreme Court refuses Mahindra, Mercedes pleas on Delhi ban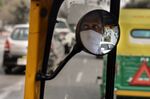 Daimler AG's Mercedes-Benz luxury unit was denied relief by India's Supreme Court on Wednesday in a case that put the luxury carmaker on the wrong side of a dividing line on diesel engines.
Chief Justice T.S. Thakur maintained a ban on new diesel-engine cars over 2,000 cubic centimeters in New Delhi through April in a bid to curtail air pollution in the Indian capital. The court was hearing a challenge by Mercedes, Toyota Motor Corp. and Mahindra & Mahindra Ltd. to its order.
The ban will hit Mercedes the hardest as their smallest diesel engine on offer in India is 2,143 cubic centimeters. Diesel sales accounted for about 70 percent of Mercedes sales in the country last year, and India is one of the fastest-growing regions for the German marque. Delhi is its biggest market in the nation.
By contrast, the majority of diesel models sold by BMW AG and Volkswagen AG's Audi are billed as 2-liter engines but measure as little as 5 cc below the threshold -- equivalent to one teaspoon -- according to specifications listed on their websites.
Toxic Particles
Mahindra, India's largest SUV maker, and Toyota, which gets more than half of its India sales volume from the Innova minivan and Fortuner SUV, are also among those affected by the ruling.
"The Supreme Court, given that it has laid down a time frame for the ban was unlikely to lift it," said Abdul Majeed, a partner at Pricewaterhouse Coopers LLP's automotive practice in Bengaluru. "Still, the writing on the wall is clear: diesel technology is coming under criticism around the world and automakers will have to find a way to either significantly reduce particulate matter emissions in diesel vehicles or promote alternative fuels."
New Delhi's poor air quality surpasses even Beijing, which last month suspended schools, restricted car use and banned fireworks and outdoor barbecuing.
Levels of PM2.5 -- tiny, toxic particles that lead to respiratory diseases -- have exceeded 600 in the past month or so in India's capital. That's about 23 times what the World Health Organization considers to be safe over a 24-hour period.
Aside from vehicle fumes, millions of India's poor burn wood fires for domestic use as well as farming, while wealthier residents fire up diesel generators as grid electricity supply is unreliable. The emissions add to the pollution challenge facing Asia's third-largest economy.
Before it's here, it's on the Bloomberg Terminal.
LEARN MORE