Faraday Throws It in Reverse With a 1,000-Horsepower Batmobile
This is not the concept car you've been waiting for.
by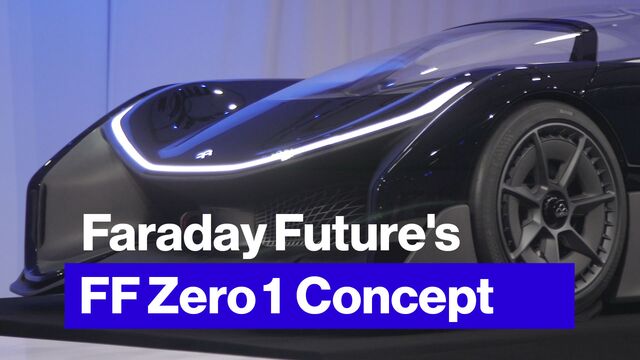 The time for futuristic concept cars has passed.
But that's exactly what you get with Faraday Future's 1,000-horsepower, one-seater batmobile, unveiled last night at the CES tech showcase in Las Vegas.
The event was supposed to be Faraday's big coming-out party. The secretive electric-car startup, bankrolled by Chinese Internet billionaire Jia Yueting, hired away engineers from Tesla and SpaceX to build a hype machine worthy of an Apple launch. Now it wants to be taken seriously and is about to break ground on a $1 billion plant in Nevada. But as the automobile world heads in the direction of practical electric cars, Faraday has thrown it in reverse.

Its concept car boasts four motors (one for each wheel), a crazy suite of sensors and displays, and a chassis platform that will supposedly adjust to fit anything from a compact car to a truck. If this event had taken place in 2008, it would have been a show-stopper, but a lot has changed since 2008. There are already electric cars that can go from 0 to 60 in under three seconds and drive for 300 miles without stopping (Tesla). There are fully autonomous test cars driving themselves on the roads in California right now (Google). 
What the world hasn't seen is a long-range electric car that costs less to drive than its gasoline counterparts. (What a concept.) We may start to see those within two years from Nissan, GM, and Tesla. And in the next five years, dozens of new electric models are promised from such brands as Ford, Volkswagen, Volvo, BMW, Audi, Porsche, Mercedes, and possibly even from Apple, Google, and Uber.
Maybe there's room for a Faraday Future too, but it won't be for a four-engine batmobile.     

Before it's here, it's on the Bloomberg Terminal.
LEARN MORE