Dragon Tail Risk for World Economy on Higher Fear of China Slump
by and
UBS war games what happens to global growth if China grows 4%

World avoids recession but Asian economies hurt, bank says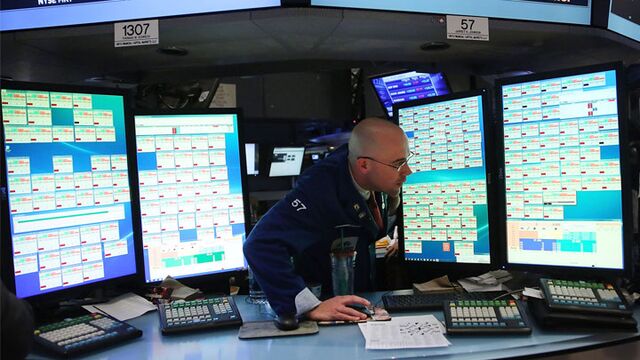 It took exactly one trading day in 2016 for the year's first Black Swan to appear on the horizon.
As Monday's 7 percent slide in China's CSI 300 Index triggered a worldwide rout in equities, UBS Group AG reminded clients of its December analysis of what a slump in the world's second-largest economy would imply for global growth.
The worst-case scenario of the Swiss bank's economists and strategists is for the Chinese economy to grow just 4 percent this year rather than the 6.2 percent they actually predict.
The good news is the world economy avoids recession in their eyes. While China now accounts for about 15 percent of global gross domestic product, advanced economies still rely less on trade than emerging nations and the yuan's limited international role means any tightening in China's financial system is not as likely to be infectious.
Hard Hit
Not every economy is lucky. Regional trading partners would be especially hard hit with Japan, South Korea, Thailand and Malaysia all being knocked into recession and Australia barely growing, according to UBS.
Commodity producers such as those in Latin America would also suffer as China's hard landing drove the price of oil towards $25 a barrel, while iron and copper ore prices could drop another 20 percent.
Rich nations would still feel a chill. In UBS's scenario, the U.S. would grow half a percentage point less than the 2.8 percent now projected and Europe 0.8 point below the current 1.8 percent estimate.
While China's $10 trillion economy likely grew by the slowest in 25 years during 2015, recent data suggest a stabilization after six interest rate cuts and massive fiscal spending by the government. Consumers are holding up and loan growth has stabilized.
Sluggish exports nevertheless continue to drag in an economy where shipments make up 20 percent of GDP.
A severe slump wouldn't be enough to keep the Federal Reserve on hold though, with two interest-rate hikes likely this year instead of UBS's base case of four. That may surprise U.S. central bankers, with Fed Bank of Cleveland President Loretta Mester telling Bloomberg on Monday that a weaker China posed no "significant risk" to the Fed's forecast. The Bank of Japan and European Central Bank would likely have to ease further, according to UBS.
UBS still says its 4 percent scenario is "highly unlikely" and would require a simultaneous triggering of all major downside risks such as a fresh weakening in property sales and an outright contraction in fixed asset investment. Policy makers would also need to be slow to respond with extra stimulus.
Before it's here, it's on the Bloomberg Terminal.
LEARN MORE