Denmark Told to Snub EU Border Laws as Anti-Immigrants Dominate
by
Former minister laments government's scaremongering tactics

EU cautions against unilateral moves at Brussels meeting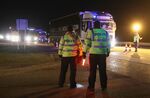 The biggest political party in Denmark's ruling bloc says the government needs to go much further than mere ID checks on the German border.
The Danish People's Party, on whose support Prime Minister Lars Loekke Rasmussen relies to govern, says significantly more border guards need to be posted around the country to ensure only people who pass identity checks are allowed in. It also wants to suspend the Schengen accord, which allows passport-free travel across much of Europe, and does not rule out a Danish exit.
"Schengen has de facto collapsed," Peter Kofod Poulsen, the party's justice affairs speaker, said in an interview. "The premise of Schengen was being able to protect" Europe's external border. Since this is not "working at all," there will need to be "border controls for several years to come."
Denmark on Monday introduced temporary spot checks on its southern border with Germany, 12 hours after systematic ID controls on visitors from abroad came into force in neighboring Sweden. The move follows an unprecedented influx of asylum seekers fleeing war in Syria, Iraq and Afghanistan. It has also angered business groups and commuters caught in the political crossfire.
Though Rasmussen said Chancellor Angela Merkel was briefed before the controls took effect, Germany could hardly disguise its irritation. Its Foreign Ministry expressed concern that Schengen is "in danger," after the Danish border checks were announced.
The European Union commissioner in charge of migration, Dimitris Avramopoulos, convened an emergency meeting with Danish, Swedish and German officials to tell them that passport checks should be kept at "a minimum."
All had agreed that the principle of freedom of movement for businesses and citizens should be safeguarded, Avramopoulos said.
But with the E.U. unable to stop migrants from entering its territory -- particularly along the porous Greek-Turkish border -- and with its governments struggling to agree on a relocation program for eligible refugees, German Deputy Interior Minister Ole Schroeder warned that the lack of European-wide solutions would inevitably lead to "measures from the member states."
The talks in Brussels took place amid a fresh round of mudslinging. Sweden's "irresponsible foreign policy has suddenly become a huge headache for Denmark," Liberal Party immigration speaker Marcus Knuth told the Jyllands-Posten newspaper. The Danes say Sweden's actions have forced them to impose controls on the German border.
Denmark's willingness to anger the government of Europe's biggest economy is easier to understand when seen in the context of Rasmussen's reliance on the anti-immigration DPP for his political survival. Though the prime minister supports continued close collaboration with the EU, his goals on that front are at odds with the DPP's.
Since it was founded in 1995 with a declared goal of "preserving Danish heritage," the DPP has dominated the political agenda. Now, even the opposition Social Democrats agree to stricter immigration and asylum rules. With some 10 parties in Denmark's legislature, the DPP enjoys the support of about one-fifth of the electorate, making it the second-biggest political group in the country.
The party has chosen to stay outside Rasmussen's cabinet, preferring instead to pull the strings from within the ruling bloc, but without bearing the responsibility of holding office.
From such a vantage point it has succeeded in persuading the government to tighten asylum rules, drawing sharp criticisms from human rights groups.
Morten Oestergaard, a former deputy prime minister and economy minister whose Social Liberals are one of the few Danish political movements to have criticized the hard line against immigrants, warns that the policy may end up hurting his country.
"This is a question of political leadership," Oestergaard, now in opposition, said in an interview in which he lamented the Danish government's scaremongering tactics.
For a country that prides itself on its World War II record of saving Jews, Denmark's current treatment of refugees has raised some eyebrows. Most recently, a proposal to in some cases strip asylum seekers of precious jewels triggered Nazi parallels and prompted a wave of soul-searching inside Denmark. Members of the government argued their policies had been misunderstood.
There are signs of a backlash among the electorate. According to a poll published Wednesday by Borsen, support for Rasmussen's Liberal Party has dropped to 16.6 percent, the lowest level since 1990, while the DPP has seen its support drop from its June 2015 elections high of 21.1 percent to 19.2 percent.
Before it's here, it's on the Bloomberg Terminal.
LEARN MORE