Corbyn Fires Dugher in U.K. Labour Shadow Cabinet Reshuffle
by
`Jeremy said he didn't like things I'd been writing'

Labour leader reorganises top team after internal opposition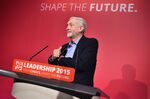 U.K. opposition Labour leader Jeremy Corbyn fired his culture spokesman, Michael Dugher, as he reshuffled his shadow cabinet amid continued opposition to his policies from many of the party's members of Parliament.
Dugher had warned Corbyn on Sunday that he risked turning his team into a "Politburo" if he moves opponents out of their jobs. British media have reported that Hilary Benn, the foreign-affairs spokesman, and Maria Eagle, who speaks on defense, are among those in danger of being switched to other roles, just four months after Corbyn took over as Labour leader.
"Just been sacked by Jeremy Corbyn," Dugher said in a Twitter posting Tuesday. "Jeremy said he didn't like things I'd been writing (in defense of good colleagues & new politics)."
Corbyn has been openly opposed by many of his party's lawmakers since his victory, achieved with the backing of tens of thousands of Labour members and supporters who back his anti-austerity ideas. A number of senior figures have refused to serve under him and his ability to set the party's direction has continued to be limited by resistance within the top team.
"Michael Dugher is a rare politician -- a talented working class MP who hasn't lost his strong Yorkshire roots," Deputy Leader Tom Watson said in a statement. "Labour's loss in the shadow cabinet will be compensated by Michael's free thought on the backbenches."
Dugher's removal drew criticism from other spokespeople and lawmakers. Lucy Powell, the Labour education spokeswoman, said on Twitter she was "very sorry" to see his departure. "Michael is a formidable campaigner who provides an important and authentic voice," she said.
"Where's the broad church in all of this?" lawmaker Angela Smith tweeted. "Big mistake."
Before it's here, it's on the Bloomberg Terminal.
LEARN MORE