China Stocks Fluctuate as Regulator Seeks to Reassure Investors
Bloomberg News
CSRC says it's open to tweaking circuit breakers after plunge

Government funds said to buy shares to prop up market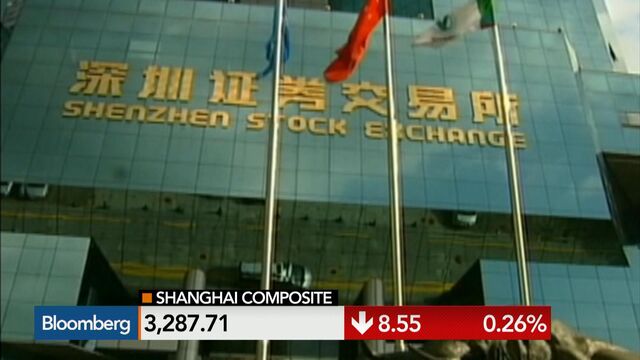 China's stocks rose in volatile trade as state-backed funds were said to intervene after a plunge on Monday wiped out $590 billion of market value.
The CSI 300 Index advanced 0.3 percent at the close after swinging between a gain of 1.4 percent and a loss of 2.7 percent. Trading was halted on Monday after the gauge plunged 7 percent, triggering new market circuit breakers that some analysts said exacerbated the sell-off.
State-controlled funds bought equities and the securities regulator signaled a selling ban on major investors will remain beyond this week's expiration date, according to people familiar with the matter. The China Securities Regulatory Commission also suggested it's open to tweaking the circuit breakers, while the central bank conducted the biggest reverse-repurchase operations since September.
"The government will be able to stabilize the stock market by both administrative orders and use of support funds," said Yin Ming, vice president of Shanghai-based investment firm Baptized Capital. "The circuit breaker mechanism and concerns over share sale ban served as excuses to sell."
The Shanghai Composite Index lost 0.3 percent, while the Hang Seng China Enterprises Index retreated 1 percent, extending its steepest decline since August on Monday.
Equities slumped worldwide on Monday in the wake of the selloff in mainland equities. Chinese stocks' influence on global markets has increased after the nation's $5 trillion equity market rout, when the Shanghai gauge tumbled more than 40 percent from mid-June through its August low, rattled investor confidence in the world's second-largest economy.

Chinese policy makers, who went to unprecedented lengths to prop up stock prices during a summer rout, are trying to prevent financial-market volatility from weighing on an already-slowing economy. The nation's first economic reports of 2016 showed a series of interest-rate cuts and increased fiscal stimulus have failed to boost flagging growth by the nation's manufacturers.
The central bank offered 130 billion yuan ($19.9 billion) of seven-day reverse repos on Tuesday at an interest rate of 2.25 percent. The overnight repurchase rate fell 1 basis points to 2.01 percent after climbing to its highest since April on Dec. 31.
While the regulator reiterated that circuit breakers play an important role in stabilizing the market, Citigroup Inc., Deutsche Bank AG and Nomura Holdings Inc. said the rules failed to restore calm on Monday as investors scrambled to exit positions before getting locked in by the halts. Changes suggested by analysts include widening the threshold for the first halt beyond 5 percent and creating a bigger gap between trigger levels for the initial suspension and the full-day halt.
A gauge of short-term price swings held Monday's surge. The Shanghai Composite's 10-day historical volatility was at 39.4, the highest since September, after almost doubling yesterday.

"The market lacks strong buying momentum so the Shanghai index will likely trade around 3,300 points," said Shenwan Hongyuan Group Co. director Qian Qimin.
The impact of circuit breakers on the mainland is posing a new threat to Chinese shares in Hong Kong, already battered by the nation's economic slowdown, a falling yuan and vanishing top executives. The Hang Seng China Enterprises fell as much as 4.4 percent on Monday after trading halts in Shanghai and Shenzhen spurred investors to shift sell orders to Hong Kong.
"Now it is up to Hong Kong to carry the burden, as traders who cannot sell their mainland portfolio will likely use Hong Kong," said Hao Hong, chief China strategist at Bocom International Holdings Co. in the city, who called both the boom and bust in mainland share prices last year. "Many traders are disenchanted."
The H-share gauge is valued at the biggest discount versus the MSCI All-Country World Index since 2003, according to data compiled by Bloomberg. The measure trades at 6.8 times earnings, ranking it among the cheapest gauges tracked by Bloomberg after indexes in Zambia, Lebanon, Kazakhstan and Laos.
— With assistance by Shidong Zhang
Before it's here, it's on the Bloomberg Terminal.
LEARN MORE