China Open to Circuit-Breaker Tweaks as Analysts Highlight Flaws
by and
Suggested changes include widening threshold for first halt

CSRC says it will `gain experience and make adjustment'
China's securities regulator signaled it's open to tweaking the country's new market circuit breakers after analysts blamed the rules for exacerbating a $590 billion rout in stocks on Monday.
Policy makers need to "gradually explore, gain experience and make adjustment" to circuit breakers, China Securities Regulatory Commission spokesman Deng Ge said in a statement on Tuesday. The trading rules, which halt exchanges for 15 minutes after a 5 percent drop in the CSI 300 Index and for the rest of the day after a 7 percent retreat, were triggered on Monday as stocks plunged in their worst-ever start to a year.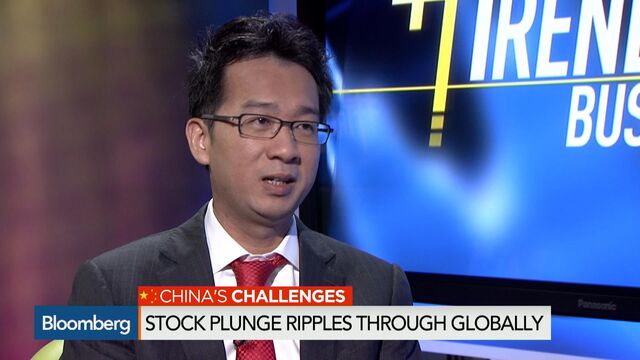 While the CSRC reiterated that circuit breakers play an important role in stabilizing the market, Citigroup Inc., Deutsche Bank AG and Nomura Holdings Inc. said the rules failed to restore calm on Monday as investors scrambled to exit positions before getting locked in by the halts. Changes suggested by analysts include widening the threshold for the first halt beyond 5 percent and creating a bigger gap between trigger levels for the initial suspension and the full-day halt.
"This mechanism, as per the Chinese regulation body, aims to reduce A-share volatility," Jason Sun, a strategist at Citigroup in Hong Kong, wrote in a report. "Instead, to a certain extent, it may raise short-term liquidity fears if investors are not able to cash in/out in a timely fashion."
Chinese shares began Monday with losses after data showed manufacturing contracted for a fifth straight month and investors anticipated the end of a ban on share sales by major stakeholders at the end of this week. The first halt was triggered at 1:13 p.m. local time as losses in the CSI 300 reached 5 percent. Investors rushed to sell after the suspension ended, with turnover peaking in the final minute before a 7 percent slump froze trading in shares, futures and options for the rest of the day.

"Clearly, the tight stops of 5%/7% of China's circuit breaker have a 'Magnet Effect' as prices gravitate towards the breaker, and prompt a stampede that drains market liquidity," Hao Hong, the chief China strategist at Bocom International Holdings Co., wrote in a report.
Policy makers proposed circuit breakers in the wake of a market crash that saddled many of the nation's 99 million individual investors with losses. The new mechanism adds to trading restrictions that include a 10 percent limit on daily swings for individual stocks and a so-called T+1 rule preventing investors from buying and selling the same shares in a single day.
Tight Threshold
Unlike some measures to calm the $6.5 trillion equity market over the summer, Chinese authorities sought input from market participants when the circuit-breaker proposal was unveiled in September. They even made some changes to the rules, including shortening the length of the first halt to 15 minutes from 30 minutes, before implementing them for the first time on Monday. Traders said the halts took effect as anticipated without any major technical problems.
China's threshold for trading halts looks "quite tight" versus circuit breakers in other markets, according to Deutsche Bank strategist Yuliang Chang. In the U.S., trading is halted temporarily after declines of 7 percent and 13 percent in the Standard & Poor's 500 Index, and only suspended for the rest of the day if the losses reach 20 percent.
The CSI 300 index of China's biggest companies rose or fell by 5 percent 20 times from the start of June through early September, with daily moves exceeding 7 percent on half of those occasions.
The two trigger levels in China, which come within 2 percentage points of each other, are "likely too close to each other and added to investors' fears," wrote Wendy Liu, a strategist at Nomura in Hong Kong. She pointed to comparisons with the U.S. and South Korea, where halts kick in at swings of 8 percent, 15 percent and 20 percent.
"It would certainly be in offshore investors' interests to see regulators coming up the learning curve and being able to foster a well thought out and regulated market that is big, liquid and non-volatile," Liu said. "It may take a couple of weeks for the dust over this 'short-circuit' incident to settle."
Before it's here, it's on the Bloomberg Terminal.
LEARN MORE