China Bid for Slow Yuan Drop Seen Boosting Intervention Cost
by
Analysts say China may struggle to manage currency's descent

Yuan weakness will pressure China's $3.4 trillion reserves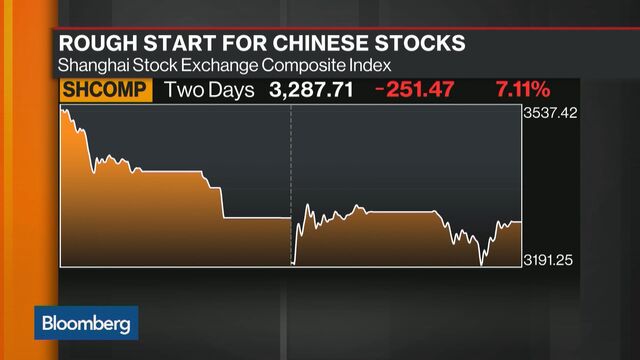 China may still be far from Jim Chanos's infamous "treadmill to hell," but its policy makers this year will find themselves running harder to stand still.
That's the take of analysts seeing a rising cost to the People's Bank of China for its insistence on a stable exchange rate as investors rush to exit out of the yuan. The price was clear Tuesday, when it took continuous sales of the dollar by the central bank to stem the yuan's drop in the wake of a Monday sell-off. Officials followed that by allowing a resumption of the yuan's decline Wednesday.
The Communist leadership's pledge to give markets a bigger say in the economy is running up against the reality that currencies can be prone to overshooting, as seen in the large appreciation in the yen during the 2007-2009 global crisis. Refusing to let the yuan, or renminbi, settle on its own means increasing scrutiny of the usability of China's $3.4 trillion of reserves.
"When the PBOC talks about an orderly depreciation, there's no free lunch -- it has a cost," said Victor Shih, a professor at the University of California at San Diego who studies China's politics and finance. "The PBOC would need to spend down its foreign exchange reserves in order to manage the spot rate."

China doesn't provide a breakdown of its reserves, and some of the assets could be in illiquid investments or already committed to fund other government projects. The U.S. measure of China's holdings of Treasuries, the benchmark liquid investment in dollars, stood at $1.25 trillion in October -- though Chinese investments are in part channeled through other countries. Chinese companies and banks have billions worth of foreign currency borrowing, a liability to be considered against the nation's reserves.
Altogether, China's usable reserves are hundreds of billions less than the headline suggests, according to Shih. The latest official estimate of the total is scheduled for release Thursday.
"We should be skeptical of the $3.4 trillion," he said. "It doesn't make China a basket-case, but it's certainly lot less safe than most people would assume."
Yuan selling pressure has picked up since the PBOC in December said it would refocus the market's attention away from the yuan's moves against the dollar and toward its performance against a wider basket of currencies. The currency is down almost 5 percent since Aug. 11, when officials announced a sudden devaluation and said it would allow the market a greater say in setting its value.
Orderly Decline
Keeping things orderly could prove difficult. Kevin Lai, chief economist for Asia excluding Japan at Daiwa Capital Markets, estimates that the PBOC may be trying to guide the currency lower by up to 2 percent each month.
"Unfortunately, executing such an orderly currency adjustment is going to be tricky," he said. "We believe the selling pressure will only surge over the next few months unless the PBOC intervenes aggressively and more so than before."
Lai is forecasting that the dollar will buy 7.50 by the end of 2016 on the back of a weak economy and deflationary threat, from about 6.5 now.
There are logistical issues too. As the yuan weakens, it gives investors, households and businesses greater reason to shift money out of the country. Keeping oversight of a porous capital border will require significant resources, said Andrew Collier, an independent China analyst and former president of the Bank of China International USA.
Monitoring Burden
"They need adequate personnel to monitor thousands of corporate transactions to verify if they are legitimate," he said.
Collier estimates that 59 percent of the nation's 23 trillion yuan personal deposits are held by 16 million people "who in many cases can use their connections to move money offshore. This is a political problem that SAFE will have a tough time counteracting." SAFE refers to the PBOC's State Administration of Foreign Exchange unit.
Another complication for President Xi Jinping and Premier Li Keqiang are newfound international obligations. In November, the country qualified for inclusion into the International Monetary Fund's basket of reserve currencies. Widespread and sustained intervention would look out of place, especially in a year when China is leading the Group of 20 major economies.
So far at least, the yuan's descent has been gradual and there's little sign from authorities that they are prepared to accept a major slump, which could ripple through to devaluations of other emerging-market currencies.
'Greatly Exaggerated'
"The decline of the renminbi is being greatly exaggerated," Stephen Roach, a senior fellow at Yale University and former Morgan Stanley non-executive chairman in Asia. "I do not look for any major departure from this trend over the course of this year. Like the economy, the renminbi is headed for no worse than a soft landing."
Still, by promising to glide the currency lower instead of letting it settle according to market dynamics, China's authorities are setting themselves a tough task, Societe Generale SA chief China economist Yao Weiand Singapore-based head of Asian foreign-exchange strategy Jason Daw wrote in a note.
"As long as the PBOC insists on managing a gradual depreciation path, rather than allowing quick adjustments, it will continue to be a tough battle against capital outflows."
Before it's here, it's on the Bloomberg Terminal.
LEARN MORE